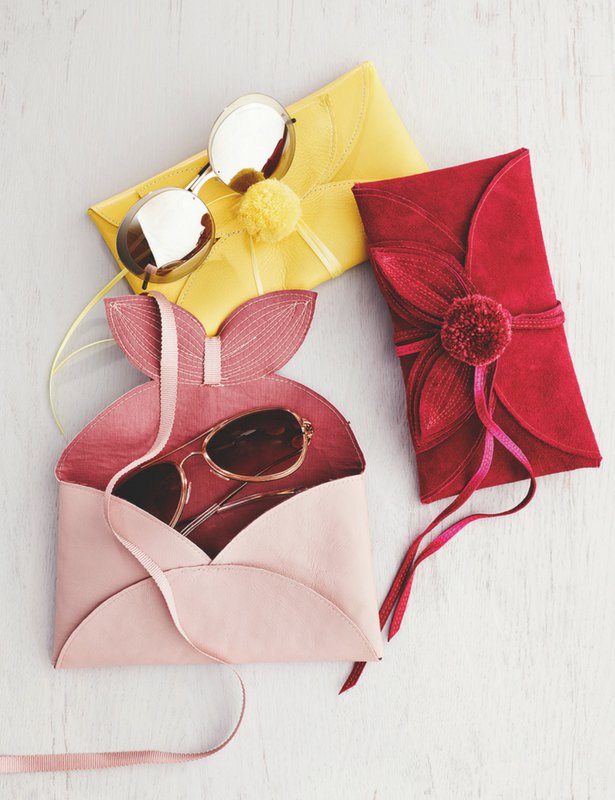 ShareThis
Make one of these adorable cases for every pair of glasses you have! These soft leather cases will be sure to keep your most special glasses protected and safe. Read on to see how you can make your own and download the free template…
MATERIALS:
- Leather
- Fusible web
- Lining fabric
- Thread
- Yarn
- Ribbon
- Scissors
- Straight pins
- Sewing needle
- Template (download here for free)
- Clips (buy here)
- Pencil
STEP 1: Cut pattern pieces from fusible web and iron to wrong side of leather. Cut out leather pieces. Peel off paper backing.
STEP 2: Iron leather pieces to wrong side of lining fabric. Trim lining next to leather edges.
STEP 3: Topstitch close to all edges, beginning at one side of flower. At end (opposite side of flower), stitch across to starting point.
STEP 4: Fold side sections toward centre then fold lower section up. In centre, stitch edges together, approx. 6 cm (2½") long.
STEP 5: Topstitch petals several times. Clip petals to the cut-on flower, and stitch the centres in place.
STEP 6 Clip ribbon to inner side of flower and sew in place. Make pompom from yarn and sew to flower by hand.
Happy DIYing!