Pattern Collections

On-Trend Blue: 8 Diverse Styles

Sometimes serious and sometimes chilled: These outfits are trendy in shades of aqua

DIY to Try

Enhance your Seams with Rhinestones!

SHINING STONES – Rhinestones for everyday? Why not?

Guest Columns

Mending Is Trending!

Visible mending tutorial ahead (+ book giveaway!)

Quick Tip Guide

Working with Bouclé!

It is a textile classic and always turns into wonderful dresses, jackets, and even accessories!

DIY to Try

Resin Jewelry

Bright examples for great design – these pieces of jewelry are easy to make and brighten any outfit!
Stitching & Knitting Tour with Sew News!
JUST ANNOUNCED - Sightseeing and shopping in London, textiles exhibit at the Victoria & Albert Museum, the The Knitting & Stitching show, and more!
SHINING STONES – Rhinestones for everyday? Why not? Gems and crystals sparkle especially we...

Read on to see one of the techniques featured in the book as well as a comment to win book giveaw...

Bouclé – the name is derived from the French word "boucle", which means "...
Pattern of the Week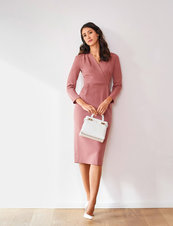 Produced by burda style magazine