Pattern Collection

Flower Girl: 7 Romantic Retro Fashions

Soft vintage fashion with romantic floral prints and gently draping cuts herald the late summer

DIY to Try

Tablecloth Weights

These enchanting felt berries act as weights for your tablecloth at your next garden party!

Meg's Mash Up

08/2019 Part 1

Meg starts to sew this dress for her August Mash Up, and adds sheer sleeves!

Burda Challenge

July Round Up

Check out our July project features along with what we plan on making in August!

Pattern Collection

Serious Business: 6 Plus Size City Looks

Sophisticated details, cool cuts and exciting prints for a styles that are fun in the city!
Sugar-sweet strawberries are in season! They are cute as a coaster, print on a tablecloth, finely...

It's definitely going to be hard to beat my last Mash Up, but I'm sure going to try with this dre...
Pattern of the Week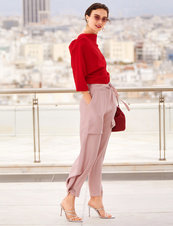 Produced by burda style magazine