Quick Tip

Piping & Bias Finishing

Whether on the lapel or neckline: piping & bias perfectly emphasizes seam lines, & finishes edges

Pattern Collections

Polished & Beautiful: 11 Elegant Patterns

Dreamy against the skin and incredibly breezy for hot days

DIY to Try

Braid Your Own Net Bag

Aa lowly shopping bag proudly presents itself as the it-accessory of the summer season

Free Sew-Along

Projects so Far

See some amazing swimsuits so far from our sew-along, and watch Meg's fun bloopers from filming!

Quick Tip

Cutting Out Striped Fabric

You love stripes? Here are some tricks on how to cut and sew so that everything lines up!
Italy Fashion Tour with Burda
LAST CALL - 4 spots remain! Escape with fellow sewists to an exclusive trip around Italy touring everything from wineries to fashion houses.
NET A BEAUTY ! Our must-have ignores its origin as a lowly shopping bag and proudly presents itse...

Our latest FREE sew-along Swimwear Shape-Up launched just last week and we already have seen some...

Sorry for the delayed start to my June Mash Up, I was super busy prepping for our next sew-along ...
Pattern of the Week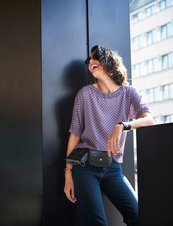 Produced by burda style magazine