Guest Columns

Mending Is Trending!

Visible mending tutorial ahead (+ book giveaway!)

Quick Tip Guide

Working with Bouclé!

It is a textile classic and always turns into wonderful dresses, jackets, and even accessories!

Pattern Collections

So Hot! 6 Plus Size Summer Patterns

Fantastic details as well as breezy cotton and linen fabrics make these modern styles for the season

DIY to Try

Resin Jewelry

Bright examples for great design – these pieces of jewelry are easy to make and brighten any outfit!

New Pattern

Retro Restyle

This calf-length circle skirt originally published in 1958 is right back in the forefront of fashion
Italy Fashion Tour with Burda
LAST CALL - few spots remain! Escape with fellow sewists to an exclusive trip around Italy touring everything from wineries to fashion houses.
Bouclé – the name is derived from the French word "boucle", which means "...

These plus size dresses, blouses and trousers stand out from the 07/2018 issue of BurdaStyle maga...

Bright examples for great design – these pieces of jewelry and jewelry holding plate are ma...
Pattern of the Week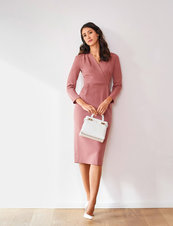 Produced by burda style magazine