DIY to Try

DIY Whale Baby Bottle Holder

The milk will always be at hand and stowed away nicely with this bottle holder in a fun whale shape!

Burda Challenge

August Round Up

Check out our August project features along with what we plan on making in September!

Sewing Lesson

Asymmetrical Gathered Top (Plus Size)

Perfect for beginning sewers: Let us show you how easy it is to create this plus size top!

Pattern Collection

Fall in Love: 5 Plus Size Vintage Fashions

Couture details and figure-shaping silhouettes add a touch of romance for autumn

DIY to Try

Upcycle Your Hoop Earrings!

The perfect way to add a pop of fun into your accessories, and to use up little fabric scraps
It'll be hard not to smile when you are wearing these fun hoop earrings with bow, and they ...

Black or white – short or long: The waistcoat is making its comeback in our wardrobe! This style ...

My favorite month is here – September! It's my birthday (check back on the 13th for a...
Pattern of the Week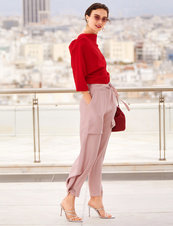 Produced by burda style magazine