Vintage 1950s silk wedding dress
Added Apr 9, 2013
by alba71
Neerach, Switzer...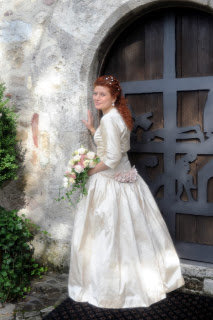 ShareThis
Description
I was a desperate bride. I looked at thousands of dresses. In magazines, in online-shops, on websites… Tried them on and lost weight. (It was like sports.) OK, some of them looked nice. Very nice. On others. But I couldn't imagine myself wearing them. Even only looking at some of those wedding dresses made me feel uncomfortable. Not to speak of wearing them. I must admit: I don't like polyester. I even dislike touching some of those fabrics. And fact is, most of them are made of polyester or blends. And I actually had something special in my mind, but first I didn't know what.
I realised that I thought quite a lot about a pattern I once had seen in a Vogue pattern book in the early 90s. It was not a certain dress, but more a certain style and especially the embellishments that still made me think about that dress.
So I started looking on internet to find that pattern. But how, if you haven't got any pattern number? Well, quite soon I found myself looking at homepages with real vintage pattern. Real means: 60s and older. And I liked these designs more than the ones of today. At a certain point a saw a pattern with which I completely fell in love. It was a dress by Hubert Givenchy made for the lovely and wonderful Audrey Hepburn. Unfortunately, the pattern was unavailable (and probably would have cost a fortune). However, I searched until I found some similar patterns to chose from and studied them. The pattern I chose finally was Butterick 7708 from 1956. I made some (many!) alterations, changed it from sleeved dress to a strapless version (though in the end I added some straps) and embellished my wedding gown with lots of handmade fabric roses.
Well, it wasn't as easy as it sounds. I had to find the perfect fabric. Duiponi silk, and I was lucky to find it in a lovely champagne colour. I made a muslin of the bodice just to get the right size and measurements for me. I even made a skirt with the same duiponi silk fabric in grey to get an idea about how full the finished skirt would look like. And still I had to cut the bodice a second time as I made a mistake the first time. I spent hours on making fabric roses in pale pink and champagne. I had sleepless nights because I was torturing my brain just to get an idea for an easy boning for the bodice. And even more sleepless nights because my sewing machine, at a certain point, didn't work properly anymore. (It was a minor problem, as I used the wrong needles…) I has to sew the bodice twice as I lost weight and the bodice was too loose… (Despite the fact that I was in my late second month of pregnancy at wedding!)
I was lucky to have an understanding soon-to-be-husband who helped my trying on the half-finished dressed with closed eyes by closing the back zipper.
To get a fuller skirt I made a petticoat of silk organza – this is quite a time- and material-consuming matter. I was very happy to have a ruffler feet for my Bernina!
In an old Burda magazine ("Festliche Mode") from the 90s I found the pattern for a pompadour handbag. And I made the pins for my hair with brass wire, freshwater pearls and Swarovsky crystals, some of them were also used for the rose embellishments. The day before the wedding I even had to make a bolero as it was slightly raining and it would have been to cold with bare shoulders.
It cost me a lot of nerves, but it was worth every minute and every sleepless night. And this was my first attempt to vintage sewing!
Months later our daughter was born. Maybe, one day, she would like to wear her mother's wedding dress, just like me – for the registration of our marriage I wore my mother's late 60s style handmade wedding dress. Made of pink duiponi silk. But that's another story…
Material Notes
Main fabric wedding gown: champagne duiponi silk
Rose embellishments: champagne and pale pink duiponi silk
Petticoat: loads of silk organza
Notions: long back zipper, boning, fusible interweaving, fabric-covered button, self-made piping, pressing buttons for the removable shoulder-straps
Patterns used:
Butterick 7708 (1956)
Vogue bridal accessories V7009
Difficulty
Expert
Categories
1 Reply

1 Reply

1 Reply

1 Reply