Sewing Magic: I know how to make an ugly couch disappear...
Added Oct 13, 2011
New York, New Yo...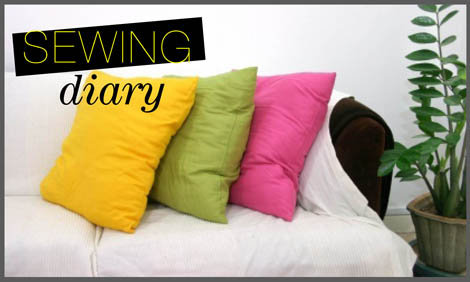 ShareThis
Description
Dear Diary,
Decorating a home costs money. It really does. Cans of paint, wall art, knick knacks and furniture. The more I have of each, the less money I have in my wallet. That's why I'm not adverse to accepting hand-me-downs, from my mother's old wall clock and my brother's coffee table to my mother-in-law's couch. Oooohhhh … about that couch …
It's one ugly couch.
And I don't mean the pattern or the style; its bones save it from being tossed out in the dumpster and it can stand up to a jumping and rough-housing two year old.
What's ugly about it is the wear and tear it's taken over the past 20-something years. The cushion covers have been stretched out of shape. The fabric over the arms of the chair are either ripped or almost bare. And I'm pretty sure it's supposed to be less yellow and more white.
So, how do I fix this couch?
Easy—a drop sheet!
That's probably not the answer you just shouted out. You probably said "reupholster it" and that would be correct if I were LoveSewing's very own Kristina Z who can take an empty soup can and some beads and turn it into a chandelier. But I'm not her.
So, drop sheet it is!
Creating a drop sheet is fairly simple and a great alternative to completely reupholstering a couch, which can be costly, time-consuming, and of course requires great skill with a machine and sewing. While a drop sheet can look messy (and is often a look reserved for when you are painting and don't want to get the couch dirty) if you dress it up right it can look really chic.
Here are my tips for sewing up your very own drop sheet:
1. Look for double-width fabric, which is 110″ wide. This will make it easier for you since all you will have to do is hem all the sides of your drop sheet. Anything smaller than double-width fabric, and you will have to sew two panels together (in order to completely cover the couch) and then hem.
2. Choose a heavier weight of fabric. Couches take a beating and you want a fabric that can keep up. A heavier fabric will also sit better (read: stay in place) over the couch and wrinkle less.
3. Measure your couch and get the right amount of fabric. It's okay to have the fabric pool around the bottom of the couch … but know when it's too much fabric. Add just a few inches to your measurement so that the fabric drapes but doesn't overwhelm.
4. Keep your hem simple. A simple straight stitch is all you need and if you have the patience, sew in a small weight at each of the four corners. This will also help keep the fabric in place and draping properly over the couch.
And that's it. Finish the look by investing in huggable pillows and a luxe-looking throw. These items will look so inviting, no one will notice that it's just a sheet.
Ta-da!
Categories
Credits
written by

Stephanie Daga

originally published on
0 Comments