Hot Dog on a Stick T-Shirts
Added Sep 26, 2013
by Lunie Blue
Sacramento, Cali...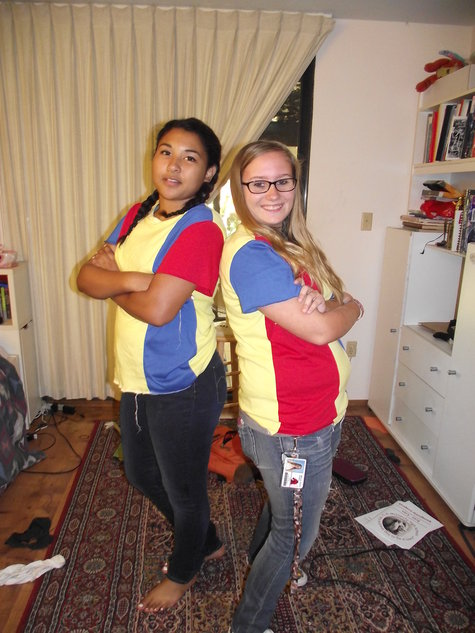 ShareThis
Description
I was asked to make these t-shirts for a charity event at work to be worn by my supervisor, her supervisor and her fellow supervisor of another team.
It is based off of Sew U Home Stretch t-shirt pattern by Wendy Mullin.
I bought red, blue and white knit from Hi-Fashion fabrics in Sacramento on Franklin blvd. I had to dye the white yellow because they didn't have the bright shade of yellow and I didn't want to drag myself to Joann's on the other side of town.
Hot Dog on a Stick is a fast food chain in US where employees are forced to wear silly striped shirts and
I made 3 t-shirts. The first one didn't come out so well because of the too wide middle stripe. I miscalculated the stripe width – i divided the front into 3 equal parts, but that created the unfortunate and unflattering placement – the seam hit right over the bust highest point. So my supervisor gave the bad shirt to her male supervisor to wear. For the next two t-shirts, I corrected the width of stripe.
I would say that a size large on this pattern runs large. I am large according to the measurements for the pattern and it fits big on both my supervisors and me.
The pattern itself is very good, all the seams matched up nicely, no struggles.
I suffered with hemming on all three shirts.
I used a double needle to hem. The hem turned out wavy. I tried three things and it still didn't work. I used Stitch-Witchery, wrapping paper, walking foot and the combination of all three – no go. I am not sure how to remedy it.
My daughter and her friend are modeling the first two t-shirts.
It took me the entire weekend to make these t-shirts – I really don't know how people make knit tops in 1.5 hours.
Hopefully, my next projects will be for me only.
Difficulty
Novice
Categories