A Hole Upcycled outfit (geddit?!)
Added May 22, 2010
County Durham, O...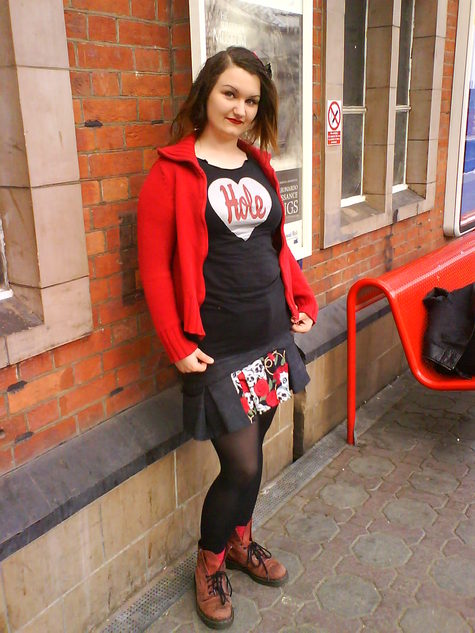 ShareThis
Description
so I went to see Hole (squee) recently at brixton and this is what I wore.
Upcycled Hole tank:
started life at an XXL mans t-shirt I picked up from a charity shop for £2.50 (infact I think alex bought me it so it was free lol!) as I recall I didn't intend to make a vest/tank but I royally screwed up the sleeves so it was a salvage job. I hemmed the sleeves but left the colar raw (rock and ROLL!) and ran a small zigzag stitch about a centimetre from the raw edge to safeguard against possible fraying (althogh the fabric doesn't seem to have frayed so thats good)
upcycled Jeans pleat Skirt:
remember by failed bustle skirt? well this is one of the many projects that will rise from it's ashes.
I ripped the leg seams on a pair of cherokee jeans (from tesco, I didnt wear them because the leg shape didnt feel right) and cut off the legs leaving me with 4 lengths of denim. I then hemmed the lengths making them all equal widths and sewed them all together in one long length, splicing some of my failed bustle skirt fabric into the mix.
I folded the long strip of fabric into box pleats and stitched to the jeans – the pleats aren't equal I needed more fabric really… but again, rock and roll!
Material Notes
1 oversized Tshirt
1 pair of crap jeans
Difficulty
Novice
Related Techniques
Categories