5 steps to sewing a curved seam
Added Oct 20, 2011
New York, New Yo...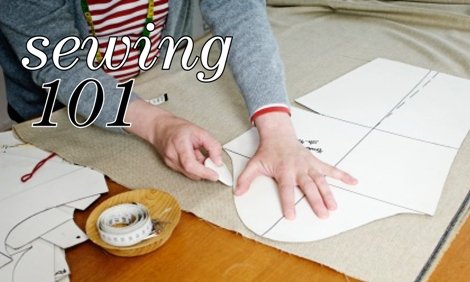 ShareThis
Description
As you develop your sewing skills and take on new projects, you will face curved seams. No need to shudder with fear—familiarizing yourself with the basic steps involved can make the process much easier (think more successful trial with minimal error). Sound good? Well, here are the five basic steps I use when sewing a curved seam (and I'd love to hear about your tried and true sanity-saving tips!)
1) Shorten your stitch length.
2) Stitch a reinforcement line along the inside of the seam allowance in the curve on each fabric piece.
3) Clip within seam allowance stopping before your reinforcement stich from step 1. The clipping helps the fabric flex as needed resulting in a smooth curve with no puckers.
4) Pin and slowly stich your curved seam, resisting the urge to pull fabric straight. Your goal is one smooth evenly arched seam. If you need to, lift the presser foot and slightly turn the fabric to maintain the curve. If you do this, however, be sure to keep the needle in your fabric. As you gain experience and confidence, do try sewing continuously without stopping.
5) Press your seam. Take care when pressing so that seam lines do not become pulled out of shape. This is one situation where a tailor's ham can be invaluable and try using just the tip of your iron.
And here's another tip: I find it helpful to draw the stitch line with a piece of chalk or other fabric marker; seeing the arch that I need to make helps me create a long, smooth, curved seam. Take it slow and practice, you'll be sewing in circles in no time.
Categories
Credits
written by

Christine Carson

originally published on
0 Comments