Your Perfect Pair of Pants: Achieving a Perfect fit and Mastering professional sewing techniques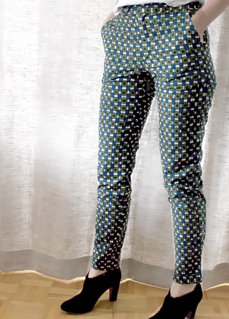 At a glance
Learn how to fit and customize a commercial pants pattern that all sewers can benefit from
You'll learn all about crotch length and depth, derrière adjustments and show you how to adjust back curves and waistlines
Learn step-by-step instructions on how to perfect a fly front zipper and add other details
Description
Sewing pants can be quite a struggle for any sewer. Rarely do they fit on the first try and it's easy to give up before you have even started. Wrinkles, pulling lines, too tight in one spot, too loose in another… Where to begin? And what about all those other sewing details? Can a fly front zipper ever become your friend (the answer is "yes!").
It might be hard to know what fitting issues to tackle first and what all the different wrinkles on your muslin mean but with the right method, fitting pants is not as hard as you might think. A pair of pants are not complete without perfecting those other details such as fly front zippers, back welt pockets and a perfect hem.
This power session will show you how to make a pair of pants fit you perfectly. I will explain crotch length and depth, derrière adjustments and show you how to adjust back curves and waistlines. I will also show you step-by-step how to perfect a fly front zipper and add other details such as welt back pockets and invisible and cuffed hems. You will never be afraid of sewing pants ever again!
What you'll learn:
How to adjust and fit a pair of pants.
How crotch length and depth plays a roll in fitting your pants.
Sewing welt pockets.
Sewing a fly front zipper.
Perfecting an invisible hem and a cuffed hem.
Who Should Attend:
Intermediate sewers interested in learning new sewing techniques.
Any sewer who is looking to learn more about pants alterations and fitting.
Sewers who struggle with fitting pants.
Any sewer who is interested in making pants for others.
Sewers looking to perfect their pants making skills.
This is intended for intermediate and advanced sewers looking to learn new skills or polish their sewing techniques. It will involve showing how to fit and customize a commercial pants pattern that all sewers can benefit from. It will also teach sewing techniques such as welt pockets and fly front zippers. Sewers who are comfortable with using a commercial pattern and ready learn how to achieve a professional look and fit will really benefit.
About the Instructor:
My Johansson-Ganjoo is a sewer, dressmaker and general craft lover. She first began sewing as a young girl and has since then let her interest in sewing grow into something more accurately described as an obsession. When she's not teaching sewing, she runs her own custom clothing business and spends most nights in front of her sewing machine. She believes sewing makes the world a better place and loves to spread her enthusiasm. Oh, and she knits too!
This is a recording of a previously presented, powerpoint-style live-streamed web seminar.
BurdaStyle does not offer any refunds for web seminar recordings. All sales are final. Please contact answers@burdastyle.com if you have any questions about the content of the recording.  
ShareThis