Waistband Techniques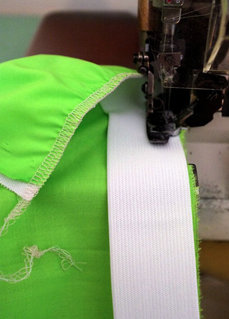 At a glance
Purchase this web seminar recording for all you need to know on installing and adjusting waistbands, elastic waists, button flies, zipper flies, adjusting pants waistlines, and more!
Description
Are you ready to move beyond tops, dresses, and accessories? Do you need to take in the waists and seats of your garments (including that rad thrift store find that's just a bit too big) or are you ready to learn advanced techniques, like inserting a tailored waistband? In this web seminar recording, sewing expert and fashion aficionado Becky MacKinnon tells you everything you need to know about applying and adjusting waistbands.
What you'll learn:
Apply and adjust different styles of waistbands.
Methods of sewing zipper and button flies
Proper application of a tailored waistband
Tacking your facings: stitch-in-the-ditch vs.hand stitching.
Waistband treatment at zippers.
Adjusting the waistband of a lined garment.
About the Instructor:
 Becky MacKinnon has been teaching sewing for 4 years at The Sewing Studio in Toronto and has dipped her feet into just about everything in the fashion industry. From couture to sports wear to accessories to pet apparel, she's sewn it all- and probably taught someone else how to sew it too! With her broad and technical background Becky has helped many new fashion designers launch their brands and has inspired a love for sewing in students of all ages.
This is a recording of a previously presented, powerpoint-style live-streamed web seminar.
BurdaStyle does not offer any refunds for web seminar recordings. All sales are final. Please contact answers@burdastyle.com if you have any questions about the content of the recording.  
ShareThis