Vintage Sewing Techniques: from Preparing Fabric to Finishing Details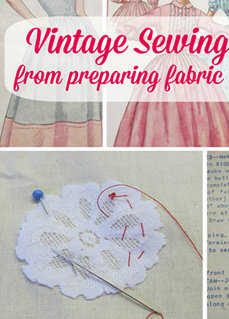 At a glance
This web seminar recording will teach you how to add personal touches and inspire your creativity!
Description
During this web seminar recording you'll broaden your technique repertoire adding couture options for sewing your garments and examine vintage sewing methods from prepping fabric with cutting techniques and tailor's tacks to finishing a garment with embroidery details. This web seminar recording will teach you how to add personal touches and inspire your creativity!
Most vintage techniques require working by hand but ultimately give a more rewarding couture finish. If you are having problems with difficult fabrics, fit, darts or finishing details, slowing down with hand work can often solve many of these problems. The more choices you have to work with, the better you will get dealing with issues that arise. New techniques also give inspiration for design and personalization. Add new flair and details to your favorite pattern, turning it into a whole different dress.
Whether you are a beginner looking to start with good basics or an advanced sewer interested in expanding your mental library, vintage sewing techniques are great foundation, giving you the option for modern technology or "sewing from scratch".
What you'll learn:
A better cutting method for silks
How to mark your fabric for the most accurate sewing
More options for finishing seams
How to use buttons and button hole techniques to create a more couture look
How to add basic embroidery and appliqué details to your garment
Who Should Attend:
Beginners wanting to build a good foundation of sewing skills
Advanced sewers looking to add new techniques to personalize their garments
Sewers of all levels wanting more choices for how to sew with patterns
Vintage enthusiasts interested in learning vintage techniques
Difficulty level:
This web seminar recording is for sewers who are familiar with the most basic pattern reading and garment construction process.
About the Instructor:
Laura Okita is originally self-taught using vintage sewing patterns, out of a need to alter and personalize vintage dresses. It was from this experience that she discovered her love for sewing and design, which prompted her to attend Parsons, The New School for Design. She specializes in vintage designs and construction techniques, couture and hand sewing, custom wedding dresses and hand beading and embroidery. Her work has been featured in Vintage Lifestyle Magazine, Thistle Magazine and in Vanity Fair's best dressed of the month. Laura currently blogs about vintage lifestyle and sewing on her blog http://papermothballvintage.blogspot.com.
This is a recording of a previously presented, powerpoint-style live-streamed web seminar.
BurdaStyle does not offer any refunds for web seminar recordings. All sales are final. Please contact answers@burdastyle.com if you have any questions about the content of the recording.  
ShareThis