Transformational Reconstruction: Japanese Techniques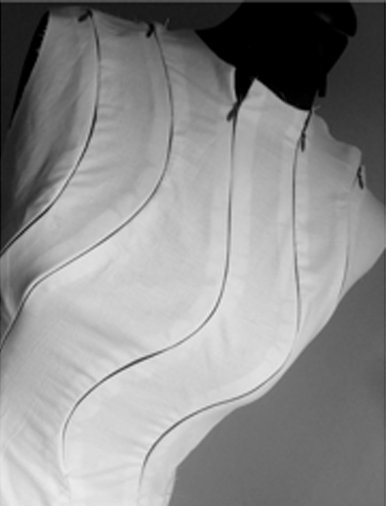 At a glance
During this web seminar, you'll learn how to create new style lines in 3D on a bodice muslin and how to deconstruct them into new pattern pieces
This technique allows you to design fitted garments with creative style lines instead of true darts
This is a basic overview of Shingo Sato's 'Transformational Reconstruction' pattern-making technique
Description
Is your design creativity dictated by darts? Do most of your garments revolve around the same style lines, with waist and shoulder darts shaping every piece you design?
Darts can be little dictators, threatening to limit the way you can creatively manipulate a pattern they can be rotated, combined and divided, but they never disappear. In this live web seminar, Nicole will show you a new way to create stunningly unique style lines through a process called Transformational Reconstruction, developed by Japanese designer and instructor Shingo Sato. This technique allows new style lines to be created in 3D on a dress form, by beginning with a basic garment that has already been sewn using typical sloper darts.
In this live web seminar, fashion architect Nicole Marét will guide you through the basics of this innovative technique, from creating the new style lines to crafting the pattern to sewing the finished garment. You will learn how to transform a basic bodice with straight waist, bust and shoulder darts into a geometric work of art. This is an incredible skill to add to your sewing repertoire, and will instantly boost your design credibility!
What you'll learn:
Create unique style lines in 3d on a basic bodice muslin.
Deconstruct these style lines into new pattern pieces.
Reconstruct resulting pattern pieces into a new, completely different bodice.
Who Should Attend:
Beginner, intermediate and advanced sewers who would like to advance their pattern-making repertoire
Anyone interested in the basics of japanese pattern-making techniques
Those who find regular paper pattern drafting to be limiting
About the Instructor:
Nicole Marét is a graduate of the Fashion Design program at the Illinois Institute of Art – Chicago, where she finally learned how to sew after gluing together Halloween costumes throughout her undergraduate career as an Art major at the University of California, Santa Barbara. She has received multiple awards for her highly conceptual and impeccably constructed 'wearable art,' and currently operates as a freelance graphic designer, costume designer and wardrobe consultant for the film industry. She launched her first collection, called The Ørder, in December of 2013.
This is a recording of a previously presented, powerpoint-style live-streamed web seminar.
BurdaStyle does not offer any refunds for web seminar recordings. All sales are final. Please contact answers@burdastyle.com if you have any questions about the content of the recording.  
ShareThis