The Secret to Beautiful Sleeves: Set-In, Shirt, and Raglan Sleeves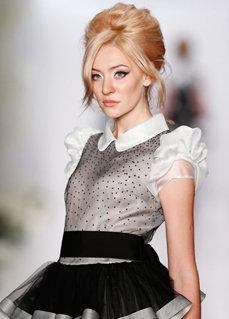 At a glance
This web seminar recording will be useful to any sewer of any level of experience and expertise who wants to learn easier ways to set in a sleeve.
Description
Are you less than happy with your sleeves? Are there always little puckers in the sleeve caps that make you crazy? Do you rip out and restitch your sleeves many times before they look more or less OK? Is one sleeve always perfect and the other one not so much?
Would you love to know how to set-in a sleeve beautifully, first time, every time? If this is where you want to be, then this web seminar recording can get you there. Learn more about the anatomy of the sleeve and why a set-in sleeve is the most comfortable to wear, if the most challenging to sew. Learn to understand sleeve caps and learn about the role of easing to create a great fit. Learn why some fabrics may need pattern adjustments for the best results. And learn several ways to ease in sleeve caps and how to fine-tune shaping at the ironing board before the sleeve is even installed for better results.
What you'll learn:
How the set-in sleeve fits into the context of different sleeve types and what makes it special
Why some fabrics are born to be set-in and why some aren't, and how to compensate for these differences
Two great ways to add ease stitching to a sleeve
The all time best way in the world to make your sleeve fit the armhole perfectly
How to sew in a sleeve
Finish pressing a sleeve
The question of sleeve heads and when they might be a good idea
Why rotating the sleeve in the armhole may just give you the fit you want
How to sew raglan and shirt sleeves
About the Instructor:
Barbara Emodi is a widely published sewing author, teacher, and compulsive seamstress. She is a former contributing author of Threads and a current columnist with Dressmaking with Stitches magazine. She has taught sewing classes in the US, Canada, and Australia and is dedicated to making the insights of generations sewers accessible to those just getting started. Her blog, Sewing on the Edge (http://sewingontheedge.blogspot.com) chronicles her sewing life and projects.
This is a recording of a previously presented, powerpoint-style live-streamed web seminar.
BurdaStyle does not offer any refunds for web seminar recordings. All sales are final. Please contact answers@burdastyle.com if you have any questions about the content of the recording.  
ShareThis