Tailoring a Jacket for the Perfect Fit and a Professional Finish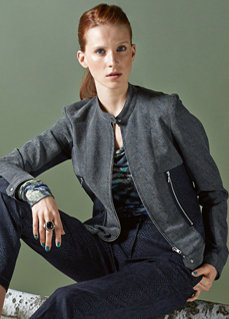 At a glance
Learn how to adjust and alter a jacket pattern to your measurements.
Familiarize yourself with tailoring and perfecting your finishing techniques.
Get some great ideas on how to personalize your jacket and make it stand out.
Description
Can't find an off-the-rack jacket that has those distinctive details you are looking for? Are you having problems finding a blazer or jacket that fits you perfectly? Maybe you have already tried to make a jacket but struggled with or skipped over certain details because it seems impossible to master (welt pockets, anyone?). If you ever seen a hand tailored jacket you know that it is true perfection. Yes, tailoring can be a intimidating to any sewer. The terminology, the tools… Is it all done with hand sewing?
This web seminar will show how to give a jacket a hand-tailored look by choosing to incorporate some key tailoring details. I will guide you through tailoring terminology and show you what tools and supplies you need. I will also instruct you how to adjust or alter a commercial pattern as well as show you some tailoring techniques to achieve a professional finish. Finally, there will be some great inspiration and ideas on how to customize your jacket with some original details. You'll never buy a jacket off the rack again!
What you'll learn:
How to adjust and alter a commercial jacket pattern.
Get familiar with tailoring terminology, tools and supplies.
Learn tailoring techniques that gives your jacket a professional finish.
Learn some great ways to personalize your jacket.
Who Should Attend:
Intermediate sewers interested in learning new sewing techniques.
Any sewer who is looking to learn about tailoring.
Sewers who want to learn how to achieve a professional finish.
Any sewer who is interested in making jackets for others.
Sewers looking for ideas how to personalize a garment.
Difficulty Level:
This web seminar is intended for intermediate and advanced sewers looking to learn new skills or polish their sewing techniques. It will involve showing how to alter and customize a commercial pattern that all sewers can benefit from. It will also teach tailoring techniques and how to select the appropriate fabrics and choose between different interfacing and supplies. Sewers who are comfortable with using a commercial pattern and ready learn how to achieve a professional look will really benefit from this web seminar.
About the Instructor:
My Johansson-Ganjoo is a sewer, dressmaker and general craft lover. She first began sewing as a young girl and has since then let her interest in sewing grow into something more accurately described as an obsession. When she's not teaching sewing, she runs her own custom clothing business and spends most nights in front of her sewing machine. She believes sewing makes the world a better place and loves to spread her enthusiasm. Oh, and she knits too!
This is a recording of a previously presented, powerpoint-style live-streamed web seminar.
BurdaStyle does not offer any refunds for web seminar recordings. All sales are final. Please contact answers@burdastyle.com if you have any questions about the content of the recording.  
ShareThis