Starting Your Own Sewing Business: How to Get Started Owning and Running a Successful Small Business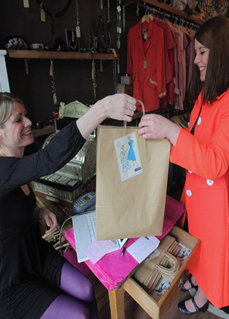 At a glance
Anyone who has ever thought about owning their own business will find this class useful.
Learn what it takes to have a successful small business
Learn how to assess if this is the right career for you – and explore some options if it isn't!
Description
Do you dream of having your own sewing or crafting business? Are you hoping to open one soon? Learn what goes into owning and running a successful small business! We'll also give you some alternative options for selling if you decide being a business owner isn't right for you.
We will distill an MBA Entrepreneurship program into 1 fast-paced hour! (Remember, you can watch it again and again.)  Should your business be online or physical store-front? What kind of space should you be in? How do you get customers? We will walk you through the questions you should be asking, and teach you how to think about your business and research your market. 
This recording is ideal for any small business owner-hopeful who would like information on opening their own sewing or crafting business.
What you'll learn:
How to attract and keep customers
How to choose between an online-only business vs a physical store-front
How to manage your inventory
How to leverage local resources and apps
How to plan your finances
Who Should Attend:
Artists/sewers/crafters who want to sell their wares but aren't sure if they should open their own business
Entrepreneurial types who need a little help walking through all the things you need to think about.
Small business hopefuls who are overwhelmed at the thought of their own business and aren't sure where to begin.&nbsp
Businesses that are already open, but aren't doing well – maybe they overlooked some of the details we'll cover.
Difficulty level:
This recording is for small business owners and hopefuls who aren't sure if or how to start their own business, or who just want to make sure they've covered every base. No prior skills/experience required.
About the Instructor:
Darcy Lewis started sewing at age 4, and by 8 was winning awards at the State Fair.  Her studies in fashion and sewing took her around the world, including Denver's Emily Griffith School, Columbia College in Chicago, and master classes with top designers like Claire Schaffer and Susan Khalje.  Informally, she has spent time in the ateliers of Ann Feist in New York and Wang Zhi in Shanghai, China (You may have seen the CBS special of Wang Zhi's work during the Beijing Olympics). In 2008, after completing her MBA in Entrepreneurship and Marketing, Darcy opened her own studio, offering ready-to-wear and custom designs with unparalleled customer service.  Her work has been exhibited and sold at the Denver Art Museum, the Mizel Museum, Threads magazine, along with many others both nationally and internationally.  She has been teaching sewing and quilting for over 10 years.
This is a recording of a previously presented, powerpoint-style live-streamed web seminar.
BurdaStyle does not offer any refunds for web seminar recordings. All sales are final. Please contact answers@burdastyle.com if you have any questions about the content of the recording.  
ShareThis