Shirtmaking: Perfecting Points and Plackets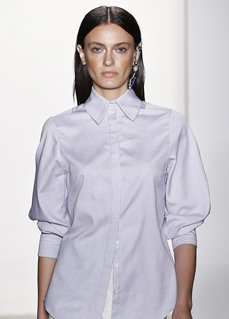 At a glance
See how simple pattern-drafting changes streamline shirtmaking
Learn foolproof construction techniques to create better-than-RTW-looking shirt collars and plackets
Discover simple tools (and tricks!) that make edgestitching and topstitching a breeze
Description
Do you love to sew, but are intimidated by the thought of making a crisply tailored shirt? Then this webinar is designed with you on mind. Using great techniques and applying a bit of practice, making beautiful shirts is completely within your reach.
This web seminar will focus on the shirt collar and front plackets; the "center of attention" on a shirt. Once you perfect making a great "first impression", your shirts will immediately look more professional. By using templates, a few tools, and some industrial sewing techniques, you will elevate your shirtmaking to the next level. Before you know it, all your friends and family members will be begging you to make them custom shirts!
What you'll learn:
How to draft a 1-piece collar
How to resize images & adjust pixels, rasterizing
How to alter shirt front pattern pieces to simplify placket construction
The best types of interfacings for cotton shirts
How to use templates to produce consistent, professional results on your shirts
How to attach a collar stand using the "burrito" method
Why pressing

REALLY

matters for a great-looking shirt
How to create perfect edgestitching and topstitching
Who Should Attend:
Anyone eager to learn new sewing and pattern-drafting skills
Experienced sewists interested in producing "better than RTW" shirt collars and plackets
Sewists who want to learn how industrial techniques can help streamline construction processes
Sewists who want new tips on how to reliably produce consistent results
Anyone who is excited to create a closet full of beautiful shirts!
Difficultly Level
This web seminar is geared for sewists who have some experience making adult clothing, and are eager to tackle a the challenges of making a more tailored garment.
About the Instructor:
Maris Olsen began sewing before she reached the age of double-digits, and has been sewing for too many years to count. She has taken countless sewing courses over the years, and is totally obsessed with learning, tweaking, and teaching great sewing processes to eager students. She is a shirt-making ninja, and sews custom shirts for herself and many family members in her home studio in Bellevue, WA.
This is a recording of a previously presented, powerpoint-style live-streamed web seminar.
BurdaStyle does not offer any refunds for web seminar recordings. All sales are final. Please contact answers@burdastyle.com if you have any questions about the content of the recording.  
ShareThis