Sewing with Silks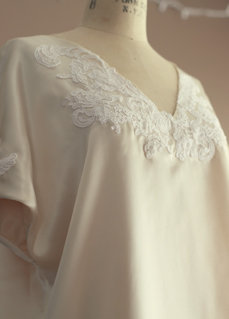 At a glance
Learn about the types of silks
Learn how to preshrink and care for silks
Learn the tricks to cutting and sewing silk
Description
Do you have piles of silk building up in your fabric stash? Are you unsure how to begin working with this beautiful and useful fabric? Would you like to create the elegant clothing you have only dreamed about? If so, this web seminar is for you.
After an introduction to silks in general we will also learn their differences and how to care for each of them. Most importantly we will learn some tricks to sewing and cutting it successfully. Finally, we will also learn how to shop for more!
This web seminar will leave you with a greater appreciation for this classic fabric, and the knowledge to begin working with it.
What you'll learn:
Properties/Important Characteristics of Silk
Types of Silks
Care of Silk (Preshrinking and Cleaning)
Cutting Silk
Sewing Silk (Choosing your thread, using the right needles, using the right pins, choosing your interfacing, sewing with the correct tension, finishing silk edges, tips on a beautiful rolled hem, choosing the right patterns for silk and more!)
Who Should Attend:
Sewers who want to learn more about silk and how to care for silk.
Sewers who could benefit from now cutting and sewing techniques
Sewers who want to learn how to change machine settings for silk
Difficulty Level :
This web seminar is for sewers who know how to sew, but unfamiliar w/ silk and want to learn more about it.
About the Instructor:
Mary grace is the founder of the Anagrassia clothing company and the Marusya Marusya blog. Her inspiration is her late Ukrainian grandmother or "babcha" with whom she shared a love for sewing and creating.
During her college years swimming at the university of Notre dame and Michigan she aspired to be a CPA. But upon graduation she returned to her first love and began enrolling in design classes while working for theater productions as a seamstress. Although she has a particular interest in creating menswear, she is presently working in the bridal world (and loving it)!
This is a recording of a previously presented, powerpoint-style live-streamed web seminar.
BurdaStyle does not offer any refunds for web seminar recordings. All sales are final. Please contact answers@burdastyle.com if you have any questions about the content of the recording.  
ShareThis