Sewing the Perfect Dart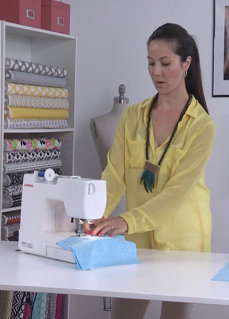 At a glance
Video Duration: 7 minutes
You'll love this video if:
You are new to garment sewing
You are having trouble getting your darts to lay flat
Your darts are creating a pointy shape at the bust
Techniques Demonstrated in this Video:
How to transfer dart markings from your pattern to the fabric
How to line up and position a dart accurately
How to avoid adding bulk to the dart tip when sewing
How to press dart allowance properly
Description
In this video, Denise Wild will share her secret to sewing the perfect dart! This tutorial will teach you how to sew smooth, professional looking darts every time. Darts are found at the bust and waistline of garments and allow fabric to contour around the curves of the body, adding shape.
Watch a sneak peak!
About the Expert:
Sewing expert, magazine editor, and author Denise Wild is the Founder of LoveSewing and The Sewing Studio and the Content Director of BurdaStyle. Denise started teaching sewing classes in her Toronto apartment in 2004, and those classes evolved into The Sewing Studio New York, now one of North America's leading sewing schools. Denise is the Editorial Director of BurdaStyle US magazine, and has worked as a magazine editor since 2000 for top national publications including FLARE, House & Home, Faze, and ANOKHI. Denise wrote the popular sewing reference book Mend & Make Fabulous, and has written for numerous publications and networks including Hello!, Elle, HGTV, W Network, Glow, Elevate, Chatelaine, and Slice.
ShareThis