Sewing Stretch Knits for Swimwear and Intimate Apparel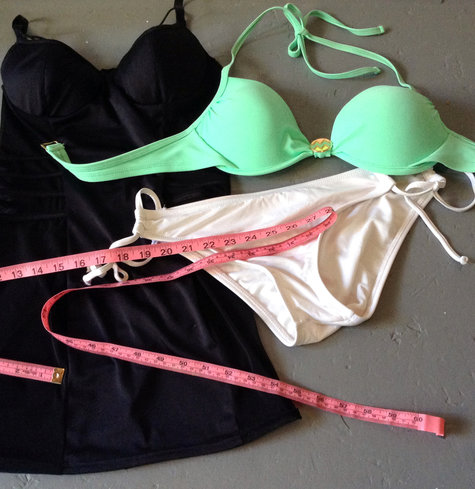 At a glance
Run Time: 1 hour and 4 seconds
Examine effective methods of sewing stretch fabrics on your domestic sewing machine.
Master common skills often applied to swimwear and intimate apparel.
Explore methods of creating swimwear from scratch without a paper pattern.
Description
Sewing garments with stretch knits is not that difficult. Sewing well-made, professional looking garments with stretch knits is a different story! It seems the more stretch the garment requires, the more likely it will look less polished and professional. There are a number of techniques and skills you can execute to keep your knit garments looking sharp, even those super stretchy swimwear and lingerie garments!
In this web seminar recording we will explore professional looking techniques for sewing stretch knits on your domestic machine, no cover stitch or twin needle necessary! We will discuss the execution of common skills applied to swimwear and intimate apparel to make your home sewn knits look off-the-rack! As an added bonus we'll also discuss a few swimwear DIY's that don't require a pattern, so you can turn heads and make waves in your beautifully sewn swimsuit!
What you'll learn:
How to effectively use your zig zag setting on knits
How to use a ballpoint needle and why
How to sew and hem knits without your fabric stretching and becoming wavy
How to choose between a double needle, zig zag stitch or a cover stitch
How to insert elastic into knit garments.
How to install boning in swimwear and intimate apparel
How to install a bust cup
How to select and install appropriate lining for swimwear
How to copy and recreate a swimsuit pattern
How to create a 4-way bikini top
How to turn a bra into a bikini top
How to revamp an old swimsuit
How to make a bikini from scratch
Who Should Attend:
Sewers, beginner and experienced, who want demonstration on how to make their knits look more professional using their domestic machine.
People wanting to produce swimwear or intimate apparel
People wanting a better understanding of sewing machine functions
People wishing to have a better understanding of how knitwear is constructed
People wishing to tackle an easy swimwear project without purchasing a pattern.
Sewers wishing to start a complicated knit project but needing tutorial on how to polish their sewing skills with regards to knits
Anyone who has ever tried to unsuccessfully hem a t-shirt or knit garment.
People wishing to revamp an old swimsuit or turn a perfectly fitting bra into a bikini top
Difficulty level:
This web seminar recording is for sewers who have a few projects under their belts and are familiar with their sewing machine but is also appropriate for seasoned sewers who wish to further their understanding of sewing professional looking knit garments.
About the Instructor:
Becky MacKinnon has been teaching sewing for 4 years at The Sewing Studio and instructs a number of webinars and videos for Burdastyle. She has dipped her feet into just about everything in the fashion industry. From couture to sports wear to accessories to pet apparel, she's sewn it all- and has probably taught someone else how to sew it too! With her broad and technical background Becky has helped many new fashion designers launch their brands and has inspired a love for sewing in students of all ages.

This is a recording of a previously presented, powerpoint-style live-streamed web seminar.
BurdaStyle does not offer any refunds for web seminar recordings. All sales are final. Please contact answers@burdastyle.com if you have any questions about the content of the recording.  
ShareThis