Sewing for Profit: From Craft Bazaars and Fairs to Online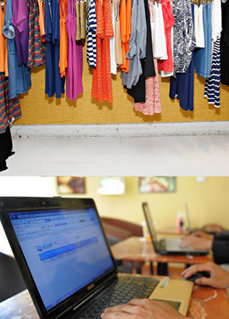 At a glance
Learn how to make a profit from sewing the items that you love
to create
Discuss the pros and cons of the various avenues that handmade
good can be sold through
Walk through a variety of ideas that will help you to maximize
your earnings, streamline your construction process, and help keep you organized!
Description
Have you ever wanted to make a profit from sewing at home? If so, then this is the course for you. Join us as we walk through the various ways that you can earn an extra income by doing what you already enjoy doing: sewing! And then stay while we discuss different strategies that we have learned through the years to simplify the process of working and sewing from home.
Not all sewing for profit opportunities are a good fit for every person and sometimes finding the right fit may seem difficult. So, let us help you find the fit that will work best for you as we cover a variety of sewing for profit options…everything from bazaars to online….and discuss the positives and pitfalls of each arena through pictures, graphs, and personal experience!
What you'll learn:
The various ways to earn a profit by sewing from home
Ways to increase your profit margin when sewing from home
Tips for streamlining steps when sewing multiples of the same item
Ideas for creating simple and effective bazaar and craft fair displays
Who Should Attend:
Anyone who is interested in sewing from home to earn a profit
Anyone who already sews for profit but would like to expand
their business
This power session is designed for anyone who has an interested in sewing for profit. No prior experience is necessary
About the Instructor:
Elizabeth and liZ who are two girls who married brothers and ended up with the same name. After years of sewing, both felt the need to begin the journey of pattern drafting garments specifically for children. So after a few community pattern drafting classes and a lot of vintage pattern book reading, they found a system that works! Aside from sewing, Elizabeth and liZ are former school teachers and love to weave teaching into sewing. They have taught at several sewing conferences and find joy in seeing students love the process of sewing. They are the creators of the blog, Simple Simon and Company.
This is a recording of a previously presented, powerpoint-style live-streamed web seminar.
BurdaStyle does not offer any refunds for web seminar recordings. All sales are final. Please contact answers@burdastyle.com if you have any questions about the content of the recording.  
ShareThis