Serger Magic: Easy Tips on How to Use the Serger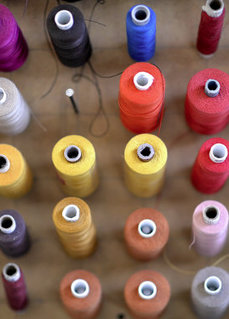 At a glance
During this web seminar recording you'll learn how to really maneuver through the serger
3 great tips for easy threading your serger
The all-time best method to change threads and stitches
Description
Do you try to avoid your serger because you're afraid of having to re- thread and fix? How about changing those thread colors? The key is to learn the basics so even if a thread bursts your confident in getting it back up to speed.
We all know when sewing the thread is bound to burst and run out but threading and using the serger can be tricky. This content is for anyone who already has a serger and wants easy tips or new to a serger and wants to learn how to not stress over the task of keeping it in top shape.
What you'll learn:
How to thread it easily
How to change thread colors
How to change stitch types for different fabrics
How to keep clean and in good condition
How to use for various fabrics including heavy weight
Who Should Attend:
Crafters who want to use a serger for desired finishes
Crafters who want to understand a system fix easily
Crafters who want to be able modify for different projects
About the Instructor:
Alicia Sanchez Designer of Favala Designs. Her line is fresh and hip with many inspirations taken from all spectrums of fashion- from funk to street to Caribbean flavors. Favala Designs has been featured in various international fashion weeks including but not Limited to Dominican Republic Fashion Week, NYC Fashion Week, DC Fashion Week, Trinidad & Tobago Fashion Week and sold through sectors of privatized wholesale and retail markets within the US and Caribbean.
This is a recording of a previously presented, powerpoint-style live-streamed web seminar.
BurdaStyle does not offer any refunds for web seminar recordings. All sales are final. Please contact answers@burdastyle.com if you have any questions about the content of the recording.  
ShareThis