Selling Your Designs: How to Turn your Fabric and Sewing Patterns into Profit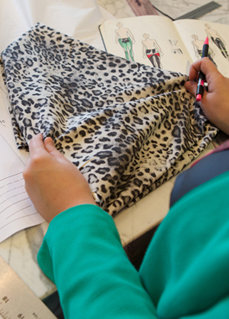 At a glance
This Power Session is for anyone who has dreamed of owning their own business or taking their existing business to the next level. Sewist and designers still looking for the best way to make a profit will benefit as well.
Description
Have you always wanted to see your name on the selvage of your fabric? Have you played around with designing fabric but don't know where to start? Maybe you've got some sewing pattern ideas but don't have the money for large printed quantities. Licensing could be your answer. Maybe writing a book. Is a good avenue for you to persue. Have you considered PDF patterns or print in demand services? What about art fairs or wholesale markets?
Sometimes you have to think outside the box to find your place in the fabric world. This webinar will give you more than enough ideas and tools to get you started on your dream of becoming a self supporting designer. This webinar is loaded with resources to get you started, helping you find the right contacts and information. Ask specific questions to help you on the road to success.
What you'll learn:
Different ways to go about selling your designs.
How to approach the right companies and people
How to approach the manufacturers and publications
Finding the right shows
Sources for selling online
Who Should Attend:
Aspiring Sewing Pattern Designers
Aspiring Fabric Designers
Sewers and Designers looking for ways to Expand their Business
Anyone who wants to Make a Business out of what the Love
Anyone interested in Art Licensing
About the Instructor:
Jennifer Heynen has been a self supporting artist for 19 years. It started when she was given a Sew Perfect Sewing Machine. Jennifer is currently designing her 14th line of fabric for In The Beginning Fabrics. She has licensed her designs to Michaels for beads as well as other companies for flags, bags, cards, and jewelry. Jennifer produces a line of sewing kits and patterns under the name Jennifer Jangles.
This is a recording of a previously presented, powerpoint-style live-streamed web seminar.
BurdaStyle does not offer any refunds for web seminar recordings. All sales are final. Please contact answers@burdastyle.com if you have any questions about the content of the recording.  
ShareThis