Selling: Sewing Tips that will leave your garments looking professional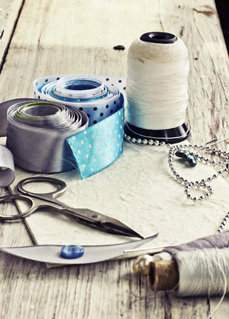 At a glance
During this live web seminar recording, you'll learn tips on how to add a professional look to your garments
3 great shortcuts to basic stitches for easy finishing
The all-time best method to making sure your clothing doesn't unravel with wear & wash
Description
Do you want your garments to look like it was made in a manufacturer? How about making sure your garments do not unravel with wear and wash? The key is to use basic stitches and tools that will not only seam your garments but make them look lavishly and professional. People will ask you if you bought it at the store and in fact you made it right from your home sewing shop.
This content is for anyone who is learning how to sew and needs shortcuts or is advanced and wants to start selling their garments and wants to leave a long lasting impression to customers. Although you can also use these tips for garments, you can also use these finishes for handbags, homedécor and the list goes on.
What you'll learn:
How to depict which tools work for which projects
How to use certain tips with basics stitches
How to add value with labels
How to combine colors for mocking designer brands
How to use certain stitches for durability
Who Should Attend:
Sewers who want to possibly sell their garments or products
Sewers who want to increase the durability of garments
Sewers who want to learn new techniques for professional finishes
Sewers who want to learn sewing shortcuts if they do not have time
Difficulty level:
This web seminar recording is for sewers who are currently selling in garments or products and want to make their garments look professional or beginners wanting to learn tips and techniques for a professional looking outcome.
About the Instructor:
Alicia Sanchez Designer of Favala Designs."Fashion Designer Business Academy," Her education has focused on Fashion Merchandising and Business Marketing with a concentration of an MBA in International Business. Member of National Association of Professional Women.

She has trained with elite professionals that worked with brands such as Oscar De La Renta, Carolina Herrera and leading fashion forecasted companies in NYC in addition to consulting fashion trends for Major Networks such as Univision, Pabanor Music Works, Revelation Films Studios, and Tradewind Films.

Lastly, Alicia is the author of the book; "Climbing The Fence: A Journey of Traveling Words."
This is a recording of a previously presented, powerpoint-style live-streamed web seminar.BurdaStyle does not offer any refunds for web seminar recordings. All sales are final. Please contact answers@burdastyle.com if you have any questions about the content of the recording.
ShareThis