Pattern Making and Grading for Stretch Fabric Patterns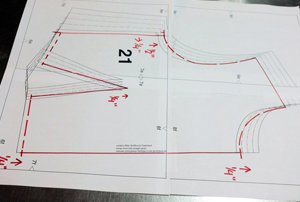 At a glance
This web seminar is for sewers wanting to learn about pattern making and grading for sewing patterns you want to sew in stretch fabric
If you are comfortable with your drafting tools than this web seminar will show you how to put them to work!
If you continue to sew woven fabric garments consider this web seminar a lesson in knit fabrics
Description
If you find yourself always sewing and working with patterns that are meant for woven non-stretch fabrics, and want to start experimenting with pattern making for knits than this web seminar is for you. Learn the foundations of knit patterns and see how you can calculate and compare your body measurements to the pattern to ensure you get the perfect fit.
Learn about the structure of knit fabrics and specific factors you need to consider when drafting stretch fabric patterns. Meg will also giver her expertise when designing with knits and how to translate those design changes on your pattern. Enter a whole new world of pattern making with these knit tips! You will also receive a dartless stretchy knit pattern and a kimono pattern that you can adapt.
What you'll learn:
Adapting blocks to knits
Classification of knit fabrics
Stretch and Recovery Gauge
Grading the pattern to fit you
Designing with the knit foundation
Who Should Attend:
Sewers comfortable with measurements and using drafting tools
Pattern makers looking to extend their knowledge of drafting with stretch fabrics
Sewers familiar with sewing patterns
About the Instructor:
Meg Healy began to sew at the age of 12, where she began experimenting with fabric and seams on her Brother little domestic sewing machine. Studying at both Fanshawe College and Parson the New School for Design in NYC, Meg gained the technical skills in pattern making and advanced sewing that led to a number of awards for her design and construction skills. Before becoming the Online Editor of BurdaStyle.com Meg worked as a pattern making intern for Vera Wang. Meg also launched her own highly unique clothing line consisting of fashion-forward spandex leggings in 2010.
This is a recording of a previously presented, powerpoint-style live-streamed web seminar.
BurdaStyle does not offer any refunds for web seminar recordings. All sales are final. Please contact answers@burdastyle.com if you have any questions about the content of the recording.  
ShareThis