Pattern Grading: Adjusting Patterns to Fit Every Size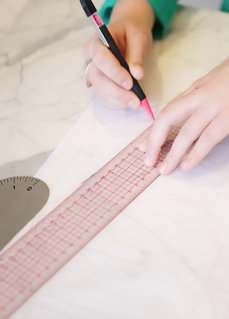 At a glance
Enrich your pattern understanding with in-depth look at pattern grading
Learn sample size sets, and build on grading up and down to different size sets
Build a wider customer base with more offerings in different sizes
Description
Do you have a fantastic design that you wish to offer to the world, but are limited to one single size? Do you wish to understand what separates the casual designer from a fashion design brand? Grading is a specialized skill set that can help transform your base style into multiple sizes. In offerings wider size ranges can doubles or triple your targeted customers. In this class you will learn the steps in to developing graded measurements and expand and reduce pattern shapes into different sizes. This will enable to capture wider audiences, and maximize your earning potential!
This in depth web seminar will take you through the industry standard grades and grading methodologies. All you will need is the base pattern, pattern making rulers, pencil, tape and paper. We will start by understanding measurements that are critical to grading, with emphasis on maintaining the same fabulous look and beautiful fit. Next, we will roll up our sleeves and learn about how to easily, quickly and accurately draft our graded patterns. Throughout the class, I will dispense professional tips and best practices that will enhance each topic. At the end of the class, you will have your own set of graded patterns and a tool box full of useful tools to establish your brand's look!
What you'll learn:
What are the industry standard grades for tops and bottoms
What are the critical measurements to achieve grades
Expertly grade pattern pieces in relationship to each other
Maintain the same fabulous look and beautiful fit through the whole size set
Confidence in pattern manipulation in satisfying customer needs and build audience base
Who Should Attend:
Fashion designers who want to expand their customer base
Fashion designers who want to maximize their earning potentials
Sewists who want a better fitting garment for themselves and others
Apparel professionals who want to build their grading skill set
Patternmakers who want to perfect their grading skills
Apparel enthusiasts who want to demystify grading
About the Instructor:
Anna He has an extensive background in the apparel industry as a professional fashion designer and a technical designer, as well as award winning cosplayer. With a passion for sewing and Anime, Anna merged her dream job and her love of all things Anime and high fantasy. She has a wide array of experience working with leather, woven fabric, knit fabric, brocade silk, lace, mesh, feather as well as beading, embroidery and painting.
Raised in New York City, Anna started sewing around age 14, on a 2nd hand Singer Sewing machine. She entered a High School of Fashion Industries majoring in Fashion Design, and went on to the Fashion Institute of Technology in New York City. After college, she worked for labels such as Norma Kamali, Eileen Fisher, Nordstrom's Classiques and the Zella Brand. In her spare time, she loves traveling and seeing people around the world. Anna has lived in New York City, Seattle, Eastern Washington, China, and Hong Kong.
<
This is a recording of a previously presented, powerpoint-style live-streamed web seminar.
BurdaStyle does not offer any refunds for web seminar recordings. All sales are final. Please contact answers@burdastyle.com if you have any questions about the content of the recording.  
ShareThis