Learning to Fit Using Your Tried 'N True Patterns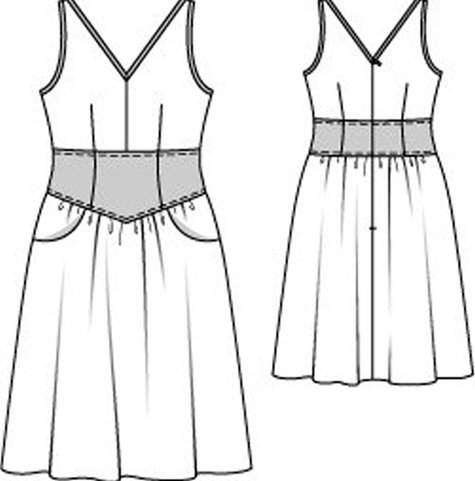 At a glance
This web seminar recording is for anyone who has a tried 'n true pattern and wants to learn how to use it to fit new, fresh out of the envelope patterns.
It will take your fitting to another level and help you to speed the fitting process along
Anyone interested in learning a different approach to fitting should try this seminar
Description
Often times, a sewist has purchased a new pattern and the conventional wisdom is to make a muslin from the pattern. Once the muslin is made, where do you go from there? Once you've made your standard fit adjustments to the pattern/muslin and you're still having drag lines or fit issues, how do you solve them?
Well learning to fit new patterns by using your TNT patterns helps to resolve a lot of your fit issues. Why? Because you have already solved your fit issues with your tried 'n true pattern so using it as a basis for a new pattern, gives you a head start in the fitting game.
This web seminar recording will show you how to make the new pattern pieces fit by using your tried 'n true pattern as the starting part. You will see how to increase or enlarge pattern pieces. You will learn where to add seam allowances. And you will demystify some of the fitting process through this webinar. This webinar is for the advanced beginner to advanced sewist who wants to learn a new way to fit patterns.
What you'll learn:
How to compare your body measurement from your tried 'n true pattern to the new pattern.
How to alter the new pattern pieces in length and width using your tried 'n true pattern as the base.
How to combine sizes
How to grade up a pattern.
How to deal with multiple pattern pieces and make them work for a new garment
How to become comfortable slashing your pattern pieces to get them to work for you
Who Should Attend:
Anyone who has a tried 'n true pattern who wants to use it as a basis for fitting a new pattern.
If you have a tried 'n true pattern that you want to "stretch" its usage.
Anyone looking for a different method to fit a garment
Difficulty level:
This web seminar recording is for the sewist who has a tried and true pattern that you've used at least 4-5 times to make a garment from in different fabric types. You should be comfortable with this pattern and ready to slice and dice it and use it for fitting purposes.
About the Instructor:
Carolyn Norman started sewing at the age of 11, when she started sewing a wardrobe for her Barbie dolls. She moved onto clothing for herself and has sewn for every stage of her life, prom, wedding, maternity and career since. She is mostly self-taught but has taken classes with Cynthia Guffey and is a devotee of Sandra Betzina and Shirley Adams. Carolyn is the author of the blog, Diary of a Sewing Fanatic, was featured in Vogue Pattern Magazine as a Star Blogger and was one of the original Mood Sewing Network sewists.
This is a recording of a previously presented, powerpoint-style live-streamed web seminar.

BurdaStyle does not offer any refunds for web seminar recordings. All sales are final. Please contact answers@burdastyle.com if you have any questions about the content of the recording.  
ShareThis