Learning Backwards: Dispelling old practices and Perfecting the art of pants fitting and construction the easy way!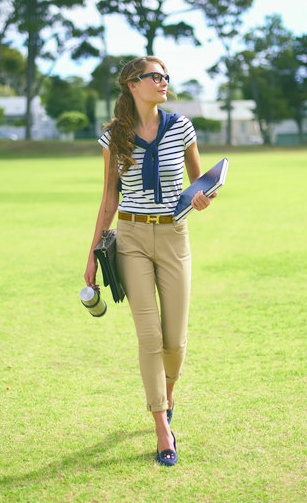 At a glance
Learn a unique pants fitting method that simplifies the process.
Perfect your fitting techniques and create a fit template to use again and again.
Gain some added construction tips that will aid with the fitting process.
Description
Have you always wanted to sew your own perfectly fitted pants? Or do you sew your own pants but still are left with subpar results—-those pesky back let wrinkles, a droopy crotch, etc.? Are you tired of the mounting frustration of not being able to get your pants to fit "just right". Take a deep breath—-your struggle is understandable and quite common. Fitting is difficult for so many because it requires one to understand how their depth, length, and circumference measurements of their lower body all interact. That can be pretty tricky! But I'm here to tell you that pants fitting doesn't have to be all that complicated and actually isn't. It really just depends on where you start with your fitting process and training one's eye to assess their figure and understand their fit needs.
There are SO many different sources of information on how to fit pants but a lot of it just leaves sewers confused. The information is great just most sewers don't know how to organize it and follow through with the steps. And for those who do they're still plagued with various fit challenges. If only pants fitting were simplified! Well it is and it begins with this web seminar!!! Allow me to teach you pants fitting "backwards". Empty your mind of some of those old confusing methods. I'll teach you a unique method of pants fitting that will have you looking at the process in a whole different light and will relieve you of all that guesswork. You'll learn how to assess your body and convert that information into a well fitting pants pattern. I'll also show you the best tools to use and how to use them. No more struggling to try and find the correct crotch length or shape! No more baggy pants leg! And with this new-found knowledge you'll feel confident about tackling any pants pattern. You'll automatically know how to make the correct adjustments that will fit for your body. In addition I'll share some construction tips that will help you sew faster and aid with the fitting process.
What you'll learn:
The easiest and most effortless way to fit pants! I

PROMISE

you will be amazed at the simplicity and effectiveness of my technique!!!
The right tools, supplies and rulers to use and how to use them
How to properly analyze your body shape and contours and automatically know how to adjust pants patterns to achieve a great fit
How to transfer your fit information to any commercial pattern and customize it
Construction tip that will have you sewing together a pair of pants in a few short hours.

BONUS

: How to create your own "pants fit template" you can use over and over again to ensure every pant you make fits perfectly
Who Should Attend:
Beginners looking to learn pants fitting in an uncomplicated and frustration-free way!
Any intermediate or advanced sewers looking to simplify their process and learn some bonus strategies
Anyone who has been intimidated with the thought of sewing their own pants
Sewers who struggle with getting rid of those pesky bag leg wrinkles and obtaining a comfortable crotch fit
Any sewer who is interested in sewing pants for others
Sewers looking for helpful construction tips
Difficultly Level
This web seminar is intended for beginner sewers and advanced sewers alike. It will involve showing a unique method of pants fitting and construction that all levels of sewers will benefit from. This will serve to enlighten new sewers and introduce a new ideology of pants fitting to the more seasoned sewer while helping them overcome their fit obstacles. Sewers who are comfortable with taking body measurements and who feel confident that they can follow my instructions on how to transfer them to a commercial pants pattern and construct the pants will really benefit from this web seminar.
About the Instructor:
Victoria Baylor first began sewing at Home Ec in High School. After going to college for Marine Science and working in the field of research science for a number of years fate had its way and she stepped away from her secular career to pursue sewing making it the love of her life and great obsession. She is self-employed and is a proud owner of a custom apparel and alteration business where she specializes in everything from making wedding gowns and kids clothes to menswear and costumes. She has had the privilege of being mentored by a Master Tailor and professional draper in which both have 70+ years of experience combined. She is also the author of the blog Ten Thousand Hours of Sewing (tenthousandsewinghours.blogspot.com) where she chronicles her journey to sewing mastery. She is working on a fashion line and other endeavors and her greatest joy is to help and encourage other sewers to discover their talent!
This is a recording of a previously presented, powerpoint-style live-streamed web seminar.
BurdaStyle does not offer any refunds for web seminar recordings. All sales are final. Please contact answers@burdastyle.com if you have any questions about the content of the recording.  
ShareThis