"Knock-off": Creating patterns from Ready-to-Wear Designs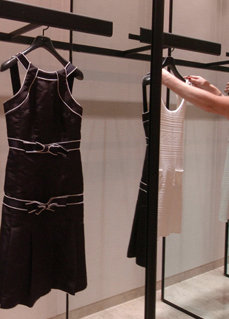 At a glance
In this web seminar, Meg will share with you the easiest and most accurate way to convert a ready-made garment into a sewing pattern
Learn how to transfer the fit and design of a ready-to-wear garment to a paper pattern
Create sewing patterns from garments you already have in your wardrobe and like the fit of!
See the easiest method of this technique demonstrated
Description
Do you have that pair of pants or other garment that you find yourself wearing all the time because you just love the fit and or placement of garment details? What if there was an easy way to transfer the fit of your garment to paper and create sewing pattern from it, well there is and in this web seminar you'll see this process demonstrated right before your eyes. There are multiple techniques for doing this and Meg has tried them all! She has perfected this technique and will share with you the easiest and most accurate way to convert a ready-made garment into a sewing pattern (that you can then further alter).
The technical term in the industry for this process is called "Knocking Off" and it is a common practice for large clothing retailers that want to "copy" a hot trend. In the manufacturing process they use similar techniques to vastly shorten the pattern-making process by transferring the style and fit of the garment so they can capitalize on the trend. Learn the practices of the industry and do this for yourself! It is a great pattern making technique to know and is great if you want foundation patterns that are developed from already perfect fitting garments in your wardrobe.
What you'll learn:
The various "Knock Off" methods
Copying a knit garment
Copying a pair of pants
Copying a dress
Additional alterations you can do to perfect and further modify your copied patterns
Who Should Attend:
Sewers looking for alternative methods in creating sewing patterns
Pattern makers looking to transfer the fit of garments into reusable patterns
People comfortable working with drafting tools
How to use buttons and button hole techniques to create a more couture look
Sewers and pattern makers with an understanding of garment construction
Difficulty level:
This web seminar is for sewers who are comfortable working with their drafting tools and paper and have decent sewing and pattern modification knowledge.
About the Instructor:
Meg Healy began to sew at the age of 12, where she began experimenting with fabric and seams on her Brother little domestic sewing machine. Studying at both Fanshawe College and Parson the New School for Design in NYC, Meg gained the technical skills in pattern making and advanced sewing that led to a number of awards for her design and construction skills. Before becoming the Online Editor of BurdaStyle.com Meg worked as a pattern making intern for Vera Wang. Meg also launched her own highly unique clothing line consisting of fashion-forward spandex leggings in 2010.
This is a recording of a previously presented, powerpoint-style live-streamed web seminar.
BurdaStyle does not offer any refunds for web seminar recordings. All sales are final. Please contact answers@burdastyle.com if you have any questions about the content of the recording.  
ShareThis