Jeans Techniques: How to make elegant, strong, and professional-looking jeans, pants and trousers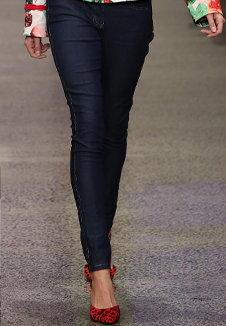 At a glance
Tips and tricks for making long-lasting, beautiful pants
Photos and step-by-step instructions to supplement your pattern booklet
Perfect for intermediate sewists who want to improve their technique
Description
As a self-taught seamstress, I was once very intimidated by making pants. After waiting years, I sewed my first pair only to find that they are not as hard as I thought, especially once I learned the right techniques! This webinar leads participants through proper jeans construction, covering everything from proper seam finishes to how to reinforce your stitching for jeans that last. It's perfect for sewing up a pair for yourself, your partner, or a child (should they be so lucky!).
The webinar contains full color photos with step-by-step instructions for each part of the process. Participants will learn about the necessary tools, order of construction, and various techniques for every step, from pocket construction to inserting belt loops. If you've ever sewn pants before and want to take your construction to the next level, or if you are a sewist who wants more guidance than the pattern booklet, this is the webinar for you!
What you'll learn:
Proper tools and materials
Various seam finishes for a professional look
Proper order of construction
How to sew a fly-front zipper
How to create sturdy seams that will hold up to every day wear
Construction tricks for a ready-to-wear look
Who Should Attend:
Sewists who are interested in making professional-looking jeans
Sewists who want more complete and photographic instructions than provided in a pattern booklet
Sewists who want to improving their technique for sewing a zip fly or attaching a waistband
Sewists who want to make clothing that lasts and is suitable for everyday wear
Sewists who want to make pants for themselves, their partners, or children
Difficultly Level
This webinar is for sewists who have experience reading a pattern, assembling a garment, and installing zippers and buttons.
About the Instructor:
A self-professed nerd, Meg Hunt started sewing and knitting in school when she realized she
couldn't wear a thesis or embellish her reports. Along the way, her sewing adventures have
led her to knit scarves in the Peruvian Andes and sew up dresses in Mexico City. You can
usually find her in California, where she works in the non-profit world and blogs about her
sewing adventures on Made By Meg (megmadethis.blogspot.com).
This is a recording of a previously presented, powerpoint-style live-streamed web seminar.
BurdaStyle does not offer any refunds for web seminar recordings. All sales are final. Please contact answers@burdastyle.com if you have any questions about the content of the recording.  
ShareThis