How to Use Hand Stitching for a Professional Finish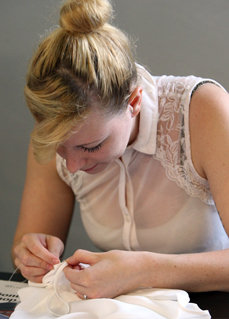 At a glance
There's no better way to improve the quality of your sewing than with well-placed and properly executed hand stitches.
Description
With couture dressmaker and master teacher Susan Khalje as your guide, you'll learn a full repertoire of the hand stitches that form the backbone of fine sewing:
What you'll learn:
basting
overcasting
the catch stitch
the slip stitch
the fell stitch
the back stitch
the pick stitch

You'll not only learn how to do these stitches, you'll learn how to use them effectively. We'll also discuss needles, thread, and beeswax, and Susan will illustrate the stitches with garments from her own collection.
About the Instructor:
Threads Magazine Contributing Editor and author of Bridal Couture and Linen and Cotton, couture sewing expert Susan Khalje trained at the New York couture salon Chez Cez et Bez. During a long and successful career as a couture dressmaker, she founded the Couture Sewing School in 1993, offering in-depth sewing seminars around the U.S.The Association of Sewing and Design Professionals has honored her with its Lifetime Achievement Award, and she regularly takes groups of couture enthusiasts to Paris. Her own series of on-line classes will soon debut on her website (www.SusanKhalje.com) – The Cocktail Dress will be followed by Working with Lace and The French Couture Jacket
This is a recording of a previously presented, powerpoint-style live-streamed web seminar.
BurdaStyle does not offer any refunds for web seminar recordings. All sales are final. Please contact answers@burdastyle.com if you have any questions about the content of the recording.  
ShareThis