How to Trace a Pattern from BurdaStyle Magazine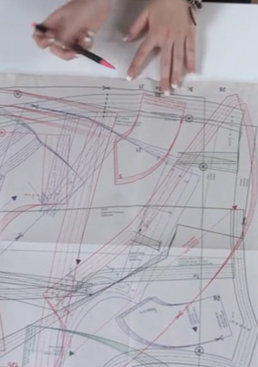 At a glance
Video Duration: 13 minutes
You'll love this video if:
You want to sew a style from your copy of BurdaStyle US Magazine
You have never traced a pattern from a BurdaStyle magazine
You find you get overwhelmed with the different lines and numbers on the insert sheets
You aren't sure if you are tracing out the right pattern pieces
You will Learn:
How to identify each different pattern sheet
Where to find a list of required pieces for each style
Where in the sewing instructions to check which pattern pieces you need
How to trace the patterns from the sheet
Description
If you've ever used a pattern from a BurdaStyle Magazine insert, you know it can be a little tricky to differentiate between the pattern pieces on each sheet.With so many patterns available within the magazine, the pieces need to be layered in order to fit on the included insert! This video will guide you through simplifying the pattern sheet, show you how to locate your required pieces, and how to trace them each out accurately.
Watch a sneak peak!
About the Expert:
Meg Healy began to sew at the age of 12, where she began experimenting with fabric and seams on her Brother little domestic sewing machine. Studying at both Fanshawe College and Parsons the New School for Design in NYC, Meg gained the technical skills in pattern making and advanced sewing that led to a number of awards for her design and construction skills. Before becoming the Online Editor of BurdaStyle.com Meg worked as a pattern making intern for Vera Wang. Meg also launched her own highly unique clothing line consisting of fashion-forward spandex leggings in 2010.
ShareThis