How to Teach Sewing Classes & Market Yourself as a Sewing Teacher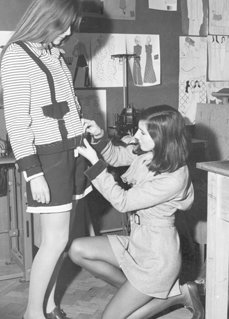 At a glance
This web seminar will give you the detailed information, real-life tips, and confidence you need to launch a successful and satisfying sewing educator.
Description
This web seminar recording is for every sewer who is ready to share her enthusiasm and expertise with new, returning, and developing sewers. If you have heard one too many women sigh and say "I wish I could sew like you," and are now ready to say "listen I can teach you" this how-to web seminar is for you.
This very practical session will give you the detailed information, real-life tips, and confidence you need to launch a successful and satisfying part-time, or even full-time, career as a sewing educator.
The instructor is an award-winning teacher who has taught sewing in academic, private, corporate, and retail settings. She is qualified to discuss the pros and cons of different options for teaching and to guide you to finding your own unique place in sewing education.
What you'll learn:
Who will you teach? Learn how to identify potential students and how to approach them. Consider children's versus adult classes for example.
What should you teach? Explore different approaches to content – project based seminars, skill/process courses and private coaching.
Where can you teach? Possibilities include your home, rented or collaborative studio spaces, as part of continuing education programs, or in fabric stores or sewing machine dealers, or even online. What would work best for you?

When can you start teaching and what can you do to prepare? What qualifications do you need and how do you develop them? And on timing, what schedules work best for most students?

Why do you want to teach? What are the benefits, financial, personal and professional, and what are the challenges (class management and handling disruptive students)
How do you get started? What can you do to make sure you enjoy teaching as much as your students do? Good course design and planning will maximize the quality of your own experience as a teacher.
Who Should Attend:
Sewers who would love to teach, and haven't yet, and who have no idea how to get started, how to develop course materials, how to find students, or how to manage classes.
Sewers with strong experience in general sewing or with a clear area of expertise who want to connect with other sewers and earn significant income doing that.
Sewers who have some teaching experience but are thinking of turning an informal or occasional activity into a real way of making a living.
Difficulty level:
Although it is true that to be a good sewing teacher you don't need to know everything, you do need to know what you are teaching and well. Attendance in the class is based on the assumption that you already have a strong general sewing background and/or considerable expertise in a focused area of sewing (for instance, bra-making, or home décor for example).
About the Instructor:
Barbara Emodi is a widely published sewing author, teacher, and compulsive seamstress. She is a former contributing author of Threads and a current columnist with Dressmaking with Stitches magazine. She has taught sewing classes in the US, Canada, and Australia and is dedicated to making the insights of generations sewers accessible to those just getting started. Her blog http://sewingontheedge.blogspot.com chronicles her sewing life and projects.
This is a recording of a previously presented, powerpoint-style live-streamed web seminar.BurdaStyle does not offer any refunds for web seminar recordings. All sales are final. Please contact answers@burdastyle.com if you have any questions about the content of the recording.
ShareThis