How to Teach a Sewing Class: Create a Curriculum and Market yourself as a Sewing Teacher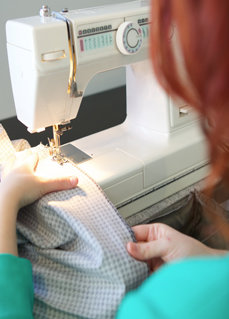 At a glance
During this web seminar, you'll learn how to follow your knowledge of sewing down a satisfying path of being a sewing educator.
Learn tips for inspiring and guiding students and building your own confidence.
Learn how to create a curriculum and market yourself as a sewing instructor, whether for your own business or for another company.
Description
Do you have a passion for sewing that you want to share with others? If you're interested in passing on your knowledge of sewing and inspiring others to get creative and sew independently, this web seminar is for you.
This web seminar will give you practical steps for determining an audience, creating a curriculum, gathering students, and successfully teaching them beginner and advanced sewing techniques.
Whether you want to create your own business teaching others, or whether you want to be part of an existing educational platform, this web seminar will help you determine the right fit for you and will give you the steps you need to take to make it happen.
This web seminar is being taught by sewing expert Denise Wild. Denise started a sewing school, The Sewing Studio, in her one-bedroom apartment that grew to locations in Toronto and New York City and ran for 10 years. Denise has taught new and seasoned sewers of all ages, and will teach you how to do the same.
What you'll learn:
How to know what type of classes are most suitable for you to teach
How to identify and market to your target audience
How to create a curriculum and modify it to your students
How to manage multiple classes as well as students and their expectations
The different types of classes and which ones are best for you
Location options and pros and cons of each
Steps needed to set up your own business teaching classes
Who Should Attend:
Anyone who loves sewing and who is interested in teaching others.
Sewers who have considered teaching sewing but don't know how to start or what to do
Sewers who are interested in teaching sewing as a hobby or a part- or full-time career.
Difficulty level
This web seminar is for sewers who have a solid foundation and a strong skill set. No teaching experience is required, but you must have a good handle on the skills and techniques you are looking to teach.
About the Instructor:
Sewing expert, magazine editor, and author Denise Wild is the Founder of LoveSewing and The Sewing Studio and the Content Director of BurdaStyle. Denise started teaching sewing classes in her Toronto apartment in 2004, and those classes evolved into The Sewing Studio New York, now one of North America's leading sewing schools. Denise is the Editorial Director of BurdaStyle US magazine, and has worked as a magazine editor since 2000 for top national publications including FLARE, House & Home, Faze, and ANOKHI. Denise wrote the popular sewing reference book Mend & Make Fabulous, and has written for numerous publications and networks including Hello!, Elle, HGTV, W Network, Glow, Elevate, Chatelaine, and Slice.
This is a recording of a previously presented, powerpoint-style live-streamed web seminar.
BurdaStyle does not offer any refunds for web seminar recordings. All sales are final. Please contact answers@burdastyle.com if you have any questions about the content of the recording.  
ShareThis