How to Sew the Starburst Skirt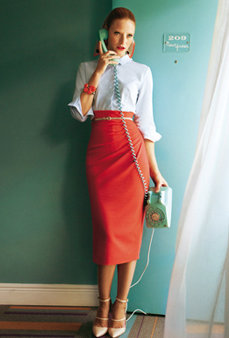 At a glance
Video Duration: 36 minutes
Techniques You'll Learn:
How to transfer markings from your pattern to your paper clearly and accurately
How to position and secure pleated seams
Which machine and stitch settings can be used for sewing with knit fabrics
You'll love this video if:
You want to sew a sophisticated new style
You are new to sewing with jersey and knit fabrics
You have never sewn a pleated garment
You'd like advice about sewing stretch seams and hems
Description
In this video, Denise Wild will show you how to sew the stunning BurdaStyle Starburst Skirt, and guide you through each step of the sewing process. She'll demonstrate how to transfer pattern markings to your fabric accurately to ensure the pleats are placed correctly. In this video you'll learn valuable sewing skills for working with tricky stretch fabrics, including different seam finishes and stitch options, and leave the video with your own gorgeous, flattering skirt!
Watch the video below to get a sneak peek!
About the Expert:
Sewing expert, magazine editor, and author Denise Wild is the Founder of LoveSewing and The Sewing Studio and the Content Director of BurdaStyle. Denise started teaching sewing classes in her Toronto apartment in 2004, and those classes evolved into The Sewing Studio New York, now one of North America's leading sewing schools. Denise is the Editorial Director of BurdaStyle US magazine, and has worked as a magazine editor since 2000 for top national publications including FLARE, House & Home, Faze, and ANOKHI. Denise wrote the popular sewing reference book Mend & Make Fabulous, and has written for numerous publications and networks including Hello!, Elle, HGTV, W Network, Glow, Elevate, Chatelaine, and Slice.
ShareThis