How to Sew The BurdaStyle Sheer Placket Dress With Slip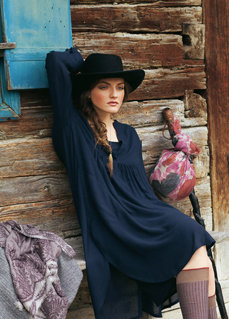 At a glance
Video Duration: 2 Hours 21 minutes
You'll love this video if:
You are sewing the BurdaStyle Sheer Placket Dress With Slip
You want to sew a stylish wardrobe staple that can be worn year round
You want to to learn more about sewing with sheer fabrics
You want to start sewing more advanced, detailed patterns
You want to learn useful techniques used for sewing dress shirts and blouses
Techniques Demonstrated in this Video:
How to sew gathers
How to interface chiffon and other sheers
How to sew a professional placket
How to sew a narrow collar
How to sew a front blouse yoke
How to sew pleats
How to sew sleeve cuffs
How to hem sheer fabrics
How to sew the shift dress slip
Description
In this video, Becky Mackinnon will show you how to sew the BurdaStyle Sheer Placket Dress With Slip from start to finish. This stylish and versatile dress will make a great addition to your wardrobe! The classic shirt-style silhouette creates a laid back feel while the sheer chiffon fabric adds a seductive touch. Becky will guide you through each step of the sewing process, starting with the pattern pieces and sharing tips and tricks for working with sheer fabrics all the way to the finishing touches on the completed dress. This is a great video for anyone wanting to take their sewing to the next level and learn more about sewing dresses and blouses as well as working with tricky sheers.
Watch a sneak peak!
About the Expert:
Becky MacKinnon has been teaching sewing for 4 years at The Sewing Studio and instructs a number of webinars and videos for Burdastyle. She has dipped her feet into just about everything in the fashion industry. From couture to sports wear to accessories to pet apparel, she's sewn it all- and has probably taught someone else how to sew it too! With her broad and technical background Becky has helped many new fashion designers launch their brands and has inspired a love for sewing in students of all ages.
ShareThis