How to Sew the BurdaStyle Princess Sheath Dress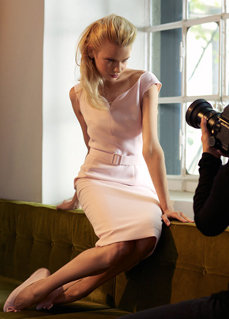 At a glance
Video Duration: 1 Hour and 16 minutes
You'll love this video if:
You want step-by-step guidance through sewing the BurdaStyle Princess Sheath Dress pattern
You're interested in challenging your sewing skills while sewing a flattering dress
You love a classic-cut dress and are looking for a go-to staple
You want to build on your sewing knowledge while completing a dress start to finish
Techniques Demonstrated in this Video:
How to sew a lined sweetheart neckline
How to sew princess seams
How to finish a bodice lining by sewing the shoulder seams last
How to install an invisible zipper
How to sew a skirt vent
Description
In this video, Denise Wild walks you through step by step how to sew the BurdaStyle Princess Sheath Dress. This figure-flattering dress has a soft, delicate neckline, slimming princess seams, and a long, pencil skirt that hugs your every curve. The dress has a few challenging steps (like installing an invisible zipper and attaching the lining to the dress by sewing the shoulder seams last), but Denise helps you through each technique in detail.
Watch a sneak peak!
About the Expert:
Sewing expert, magazine editor, and author Denise Wild is the Founder of LoveSewing and The Sewing Studio and the Content Director of BurdaStyle. Denise started teaching sewing classes in her Toronto apartment in 2004, and those classes evolved into The Sewing Studio New York, now one of North America's leading sewing schools. Denise is the Editorial Director of BurdaStyle US magazine, and has worked as a magazine editor since 2000 for top national publications including FLARE, House & Home, Faze, and ANOKHI. Denise wrote the popular sewing reference book Mend & Make Fabulous, and has written for numerous publications and networks including Hello!, Elle, HGTV, W Network, Glow, Elevate, Chatelaine, and Slice.
ShareThis