How to Sew a Hem Without Losing Length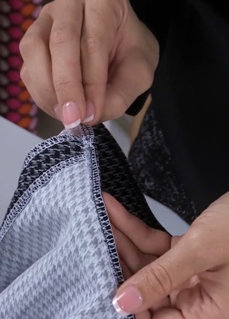 At a glance
Video Duration: 4 minutes
You'll love this video if:
You're looking for an alternative hemming technique
You need to hem a garment that is already short
You want your finished skirt or dress to be as long as possible
You will Learn:
How to press a narrow hem once the raw edge has been finished
How to topstitch a narrow hem, ensuring it catches the turned-up hem
How to conceal the excess threads of a backstitch when starting a hem
Description
In this video, Denise Wild shows you how to hem a garment while keeping it as long as possible. A standard hem allowance isn't always necessary, so when you need to keep a dress, a skirt, or a pair of pants long, you can sew a very narrow hem in order to keep the length.!
Watch a sneak peak!
About the Expert:
Sewing expert, magazine editor, and author Denise Wild is the Content Director of BurdaStyle North America and the Editorial Director of BurdaStyle US magazine. Denise is the Founder of The Sewing Studio and LoveSewing, and shared her passion for sewing with students for 10 years at her sewing schools in Toronto and New York City.
ShareThis