How To Measure For Your Desired Hem Length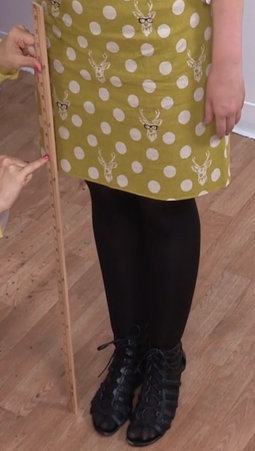 At a glance
Video Duration: 2 minutes 6 seconds
You'll love this video if:
You need to shorten or modify the hem of a garment
You don't want to wear a garment with an uneven hem
You'd like to learn more about making professional alterations
You will Learn:
Which tools you'll need for accurate measuring
Where to begin and end your measurements
The best way to stand when being measured
How to use pins to avoid marking up the outside of your garment while measuring
Description
In this video, Denise Wild will show you how to measure your garments for making accurate hem adjustments. Often cutting off an even measurement all the way around can cause the hem to appear uneven when worn.Denise will show you how dermine and mark the correct measurements by following the curves of the body to see where the hem will fall naturally.
Watch a sneak peak!
About the Expert:
Sewing expert, magazine editor, and author Denise Wild is the Founder of LoveSewing and The Sewing Studio and the Content Director of BurdaStyle. Denise started teaching sewing classes in her Toronto apartment in 2004, and those classes evolved into The Sewing Studio New York, now one of North America's leading sewing schools. Denise is the Editorial Director of BurdaStyle US magazine, and has worked as a magazine editor since 2000 for top national publications including FLARE, House & Home, Faze, and ANOKHI. Denise wrote the popular sewing reference book Mend & Make Fabulous, and has written for numerous publications and networks including Hello!, Elle, HGTV, W Network, Glow, Elevate, Chatelaine, and Slice.
ShareThis