How to Make Money From Your Love of Sewing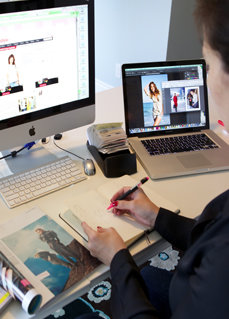 At a glance
During this live web seminar, you'll learn how to turn your passion for sewing into a job in the industry or your own creative business
Learn how to spin your resume for a creative role, and get an insider glance at jobs in the industry including some you never knew existed
Understand how you can start your own sewing business either selling your products, sewing for others, or teaching people how to sew. Also, learn how to price, market, and grown your sewing business.
Description
Sewing is something you love doing. In fact, you're passionate about it! And now you want to take that passion and have it work for you. Whether you're looking to sew on the side to bring in extra cash, or make a career move that will have you working in the industry, this web seminar is the perfect place to start.
Sewing expert and entrepreneur Denise Wild will walk you through various jobs in the sewing industry including those you never knew existed. You'll learn about putting together a creative resume and where to look for sewing-related jobs. You'll also learn how to start a sewing business, whether it's selling products, doing custom sewing, or teaching others how to sew. You'll learn about pricing, marketing, and growing your own business. Have a question about something specific? There will be a Q&A session at the end of the web seminar where you can ask Denise any questions you have.
What you'll learn:
Jobs in the sewing industry you never would never have thought of
How to put together a resume for a creative industry
Where to search for creative jobs
How to build a business selling your sewing products
How to create a business around the service of sewing for others
Starting your own business teaching others to sew
How to price, market, and grow your sewing business
Who Should Attend:
If you want to find a job that nurtures your creativity and your passion for sewing, this web seminar will enlighten you to all the possibilities.
If you're interested in turning your love of sewing into a business, this web seminar is for you!
If you want to make money from sewing for others, this web seminar will teach you how.
Difficulty Level :
This web seminar is for sewers of all skill levels. All you need is a passion for sewing and an interest in making money from your passion.
About the Instructor:
Sewing expert, magazine editor, and author Denise Wild is the Founder of LoveSewing and The Sewing Studio and the Content Director of BurdaStyle. Denise started teaching sewing classes in her Toronto apartment in 2004 while she was working at FLARE, Canada's top fashion publication. Those classes evolved into The Sewing Studio, which had locations in Toronto and New York City for 10 years. Denise also started LoveSewing.com.
This is a recording of a previously presented, powerpoint-style live-streamed web seminar.
BurdaStyle does not offer any refunds for web seminar recordings. All sales are final. Please contact answers@burdastyle.com if you have any questions about the content of the recording.  
ShareThis