How to Make Custom Linings: Draft and Sew Removable, Reversible Liners for your favorite Clothes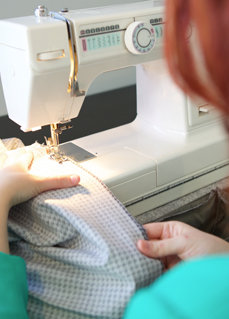 At a glance
Add beautiful, unique and personalized details to your favorite jacket!
Design and make a removable and reversible liner to expand the wear-ability of your coat
Enhance your sewing skills and add fun liner to your coat
Description
Do you have a fantastic coat that is intended for warmer weather? Do you want to broaden the wearability and add fun details of your favorite jacket? Give your favorite summer jacket a makeover, and make it 3 season appropriate! Add flair and warmth to your coat in this class! You will learn the creative steps to design and make a removable and reversible coat liner! This fun web seminar will take you through the steps in drafting a liner pattern from existing coats, fabric selection, appropriate loft material, and finishing designs.You are only steps away from creating the perfect addition to your wardrobe.
We will start by going over basic details on jacket types, liner fabric selections, sewing techniques for thick material, patterns, key points in adding loft, and lastly, quickly finishing designs details. Throughout this web seminar, I will dispense professional tips and best practices that will enhance each topic. At the end of the class, you will have all the knowledge you need to create your own fun removable, and reversible liner!
What you'll learn:
Transform a summer jacket to be a 3 season appropriate outerwear
Pick the perfect fabric that offers warmth, and minimum loft
Draft liner pattern from a finished jacket
Layout and cut fabrics
Sewing techniques for lofty material
Pick the correct thread, needles and stitches for machine quilting sewing
Who Should Attend:
Beginning sewers looking for a easy fun weekend project
Sewists who want create beautiful one of a kind liners to match their coats
Designers who want to offer removable liners in their design
Sewists who want to add warmth and extend the wear-ability of their coats
Difficulty Level:
This webinar is intended for apparel sewists and professionals who are familiar with sewing and buttonhole making.
About the Instructor:
Anna He has an extensive background in the apparel industry as a professional fashion designer and a technical designer, as well as award winning cosplayer. With a passion for sewing and Anime, Anna merged her dream job and her love of all things Anime and high fantasy. She has a wide array of experience working with leather, woven fabric, knit fabric, brocade silk, lace, mesh, feather as well as beading, embroidery and painting.
Raised in New York City, Anna started sewing around age 14, on a 2nd hand Singer Sewing machine. She entered a High School of Fashion Industries majoring in Fashion Design, and went on to the Fashion Institute of Technology in New York City. After college, she worked for labels such as Norma Kamali, Eileen Fisher, Nordstrom's Classiques and the Zella Brand. In her spare time, she loves traveling and seeing people around the world. Anna has lived in New York City, Seattle, Eastern Washington, China, and Hong Kong.
This is a recording of a previously presented, powerpoint-style live-streamed web seminar.
BurdaStyle does not offer any refunds for web seminar recordings. All sales are final. Please contact answers@burdastyle.com if you have any questions about the content of the recording.  
ShareThis