How to Land a Job in the Fashion Industry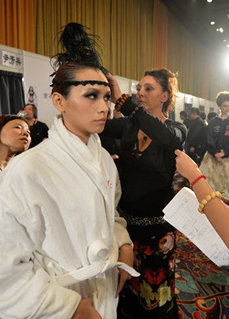 At a glance
Discover employment possibilities in the exciting world of fashion and turn your passion into a rewarding career.
Use your technical skills in sewing, pattern drafting and/or design to land a job in the fashion industry.
Develop a portfolio and resume that appropriately highlights your strengths and exposes your passion for fashion.
Broaden your understanding of positions within the fashion industry to pursue a career that plays to your strengths and interests.
Description
Whether you're a fashion school graduate or a savvy seamstress with a mountain of projects under your belt, having the skills doesn't necessarily guarantee you a job in the ever-competitive fashion industry. With hundreds of candidates applying for a single position, you really need to set yourself apart from the crowd before you even have the chance to show an employer those marvelous skills you've worked so hard to cultivate.
Discover employment possibilities in the exciting world of fashion and turn your passion into a rewarding career. This web seminar recording will help you to identify your strengths and learn how to present them to a fashion employer so that you stand out amongst the competition. Educate yourself on the resources available to help gain experience, build your network and market yourself in the fashion industry and to potential customers.
What you'll learn:
Employment possibilities in the fashion industry and pathways to landing these gigs.
How to build and polish your fashion resume and compile a suitable portfolio.
Advice on effectively presenting yourself and your skills during a fashion related job interview.
Means of which to build your fashion network.
Creative methods of building a customer base for new fashion industry entrepreneurs.
Who Should Attend:
Recent fashion school graduates
Current fashion school students
People with strong sewing, drafting or design skills wishing to turn their passion into a career
Individuals wishing to further their understanding of the fashion industry
New designers wishing to grow their customer and network base
Individuals wishing to expand their fashion industry network
Difficulty level:
This is a general interest web seminar recording appropriate for students of any skill level. No previous technical experience is required to understand concepts discussed.
About the Instructor:
Becky MacKinnon has been teaching sewing for 4 years at The Sewing Studio and, most recently, George Brown College in Toronto. She has dipped her feet into just about everything in the fashion industry. From couture to sports wear to accessories to pet apparel, she's sewn it all- and has probably taught someone else how to sew it too! With her broad and technical background Becky has helped many new fashion designers launch their brands and has inspired a love for sewing in students of all ages.
This is a recording of a previously presented, powerpoint-style live-streamed web seminar.
BurdaStyle does not offer any refunds for web seminar recordings. All sales are final. Please contact answers@burdastyle.com if you have any questions about the content of the recording.  
ShareThis