How to Insert Fabric Swatches into Your Garment's Drawing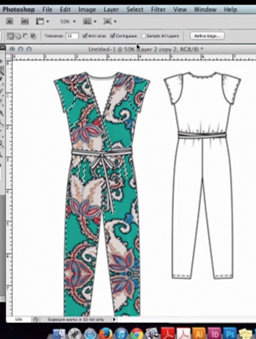 At a glance
Video Duration: 20 minutes
You'll love this video if:
You're new to working with Adobe Photoshop
You'd like to learn more about using Photoshop for fashion design
You want to try out a variety of color combinations without spending money on fabric
You want to try designing your own clothing line
You will Learn:
How to obtain technical illustrations from BurdaStyle.com
How to open the technical drawing and fabric images
How to create a fabric swatch
How to fill your technical illustration with a color or pattern
Description
In this video, Meg Healy will show you how preview the look of a specific fabric in a garment by using Adobe Photoshop. You'll learn how to piece fabrics together digitally and place them in a technical sketch of your garment to get an idea of the end result. Channel your inner designer and test out all kinds of different colors and prints before you sew and create your perfect garment!
Watch a sneak peak!
Required:


Photoshop CS5

About the Expert:

Meg Healy began to sew at the age of 12, where she began experimenting with fabric and seams on her Brother little domestic sewing machine. Studying at both Fanshawe College and Parsons the New School for Design in NYC, Meg gained the technical skills in pattern making and advanced sewing that led to a number of awards for her design and construction skills. Before becoming the Online Editor of BurdaStyle.com Meg worked as a pattern making intern for Vera Wang. Meg also launched her own highly unique clothing line consisting of fashion-forward spandex leggings in 2010.
ShareThis