How to Draw Garment Technical Drawings in Illustrator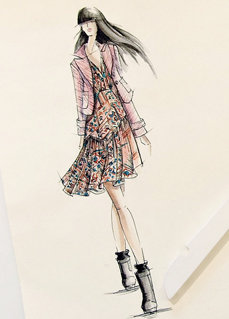 At a glance
In this web seminar recording Meg will take you through the process of drawing professional looking technical garment illustration
Description
Do you have Adobe Illustrator and Photoshop installed on your computer, but never or don't know how to use it? Are you a tech-savvy sewer and aspiring fashion designer? Do you want to bring your hand drawn garment sketches to the next level and computerize them for a more professional look. In this web seminar recording Meg will take you through the process of drawing professional looking technical garment illustration using Adobe Illustrator. You will learn how to use the pen tool and different brushes to simulate machine stitches.
Have a fabric already but not sure how it will look exactly in your garment? You will also learn to copy your newly drawn technical drawings into Adobe Photoshop, scan your fabric into the computer and insert into your design! You can even take existing technical from BurdaStyle.com patterns and add style lines, and modify the details before you start to sew. This is a handy skill to have when developing new patterns, or testing out fabric/color combinations. Think of all the possibilities!
What you'll learn:
Draw technical garment illustrations from scratch using a digital croquis
Manipulate the pen tool to draw straight, and curved lines
Make Illustrator brushes that simulate sewing machine stitches and construction details
Copying your drawing into Photoshop and inserting your scanned fabric swatch
Modify existing technical drawings
About the Instructor:
Meg Healy began to sew at the age of 12, where she began experimenting with fabric and seams on her Brother little domestic sewing machine. Studying at both Fanshawe College and Parsons the New School for Design in NYC, Meg gained the technical skills in pattern making and advanced sewing that led to a number of awards for her design and construction skills. Before becoming the Online Editor of BurdaStyle.com Meg worked as a pattern making intern for Vera Wang. Meg also launched her own highly unique clothing line consisting of fashion-forward spandex leggings in 2010.
This is a recording of a previously presented, powerpoint-style live-streamed web seminar.
BurdaStyle does not offer any refunds for web seminar recordings. All sales are final. Please contact answers@burdastyle.com if you have any questions about the content of the recording.  
ShareThis