De-mystifying Menswear: Style, Fit and Professional Sewing Techniques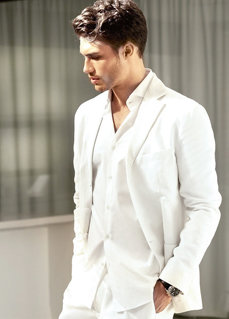 At a glance
Learn how to sew menswear!
Discover topstitching techniques, how to sew a fly and join the menswear sewing community.
Elevate your menswear garments to the next level.
Description
Are you interested in sewing menswear but are unsure of how to get started? Or have you sewn several menswear pieces but have been unsatisfied with the appearance and quality of your results? This webinar will introduce you to the concepts behind sewing menswear and will help you elevate your menswear sewing projects from 'home-made' to 'high-end'.
You will learn how to select a pattern that will result in modern, stylish, and well-fitting results. You will learn the tricks necessary to create professional details such as perfectly topstitched cuffs, square waistbands and a flawless pant fly. The webinar will show you how to select the tailoring methods that best suit your needs and will walk you through the addition of high end details to every menswear garment such as flat fell seams, French seams and seam binding.
Once your skills in menswear sewing are enhanced, this webinar will provide you with a comprehensive set of resources so that you can find patterns, books and blogs and also join the online menswear sewing community!
What you'll learn:
How to sew perfect topstitching
How to sew professional collars and cuffs
Tricks to create a perfect pant fly
When and how to add high-end details to menswear garments such as binding, flat fell seams and French seams
How to select and apply the tailoring process that best suits your garment design
How to select a pattern to result in a garment with the best fit and style
Where to find the menswear sewing community online (it exists!)
Which menswear sewing books and resources to refer to
Who Should Attend:
Sewers who would like to sew menswear for their family or themselves
Sewers wanting to create garments with more professional and lasting results
Sewers frustrated by the lack of modern and stylish menswear patterns out there!
Sewers who want to connect with other menswear enthusiasts
Sewers who want to apply menswear sewing techniques (precision topstitching, flat fell seams, a well-sewn fly) to their sewing projects – whether they are menswear projects or simply menswear inspired women's garments.
Difficultly Level
This webinar is for sewers who have experience with garment sewing and are wanting to branch into sewing menswear. A basic familiarity with pant and shirt construction is useful but not necessary!
About the Instructor:
Morgan Meredith is the owner and designer of Thread Theory Designs, an independent sewing pattern company that specializes in menswear. She spends her days designing garments, working with a professional pattern drafter, writing and illustrating detailed instruction booklets, sewing up multitudes of garment samples and blogging. She is an avid sewer (of both menswear and women's garments) who attended the Pacific Design Academy's Fashion Design program in 2011/2012. She has created many in-depth sew-alongs and tutorials on her blog (https://threadtheoryblog.wordpress.com/).
This is a recording of a previously presented, powerpoint-style live-streamed web seminar.
BurdaStyle does not offer any refunds for web seminar recordings. All sales are final. Please contact answers@burdastyle.com if you have any questions about the content of the recording.  
ShareThis