All About our Leggings Sloper: How to grade, draft, design and sew!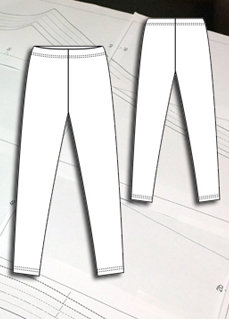 At a glance
During this live web seminar, you'll learn how to use our Knit Leggings Sloper pattern to create new knit patterns that fit you!
Learn how to grade it to fit your body measurements and determine your size before you make it into your perfect pattern
See what fabrics work best with the sloper
Learn the best drafting practices and techniques to make all sorts of different stylized patterns
Know what sewing techniques are best with knit fabrics and how to finish off the edges of leggings with any sewing machine!
Description
Have you seen all the new slopers we are releasing on BurdaStyle.com, but you are not quite sure exactly how to best utilize them? In this live web seminar Meg will demonstrate on our newly released Knit Legging Sloper and show you how to design with it, and make your style come to life though drafting and sewing demonstrations. Just witnessing some of these practices and techniques will inspire you and give you the tools to create so many more. You will receive the Knit Legging Sloper with purchase of this web seminar.
A sloper is mainly used to establish fit on the body and then used as a template when pattern making new designs. Our Knit Leggings Sloper comes in sizes 34 – 44, and further fit adjustments can easily be done to those sizes to make sure you have the perfect fit. It is sometimes hard to determine your right size in a knit pattern because the stretch of the fabric is taken into consideration, but Meg will show you how to do so! She will also show you how easy it is to convert this basic style into new leggings, shorts, and pant designs, and all you need is a ruler, tracing paper, calculator, pen, and your imagination!
What you'll learn:
What a Legging Sloper is
How to determine your size and grade and up and down sizes
The stretch factor and what fabrics are best to use with the sloper and how to make pattern changes to accommodate certain fabrics
How to turn this basic legging sloper into a variety of edgy paneled leggings, shorts, capris and pants through flat pattern making
What sewing techniques are best used to sew and finish off leggings
Who Should Attend:
Sewers wanting to learn more about pattern making
Sewers looking to learn how to best utilize sloper patterns
Sewers that are comfortable using pattern drafting tools
Sewers that want to learn about designing and drafting with patterns for knit fabrics
Difficulty Level :
This web seminar is great for sewers who are comfortable using their drafting tools and have basic garment sewing knowledge, and love knit fabrics and leggings!
About the Instructor:
Meg Healy began to sew at the age of 12, where she began experimenting with fabric and seams on her Brother little domestic sewing machine. Studying at both Fanshawe College and Parsons the New School for Design in NYC, Meg gained the technical skills in pattern making and advanced sewing that led to a number of awards for her design and construction skills. Before becoming the Online Editor of BurdaStyle.com Meg worked as a pattern making intern for Vera Wang. Meg also launched her own highly unique clothing line consisting of fashion-forward spandex leggings in 2010.
This is a recording of a previously presented, powerpoint-style live-streamed web seminar.
BurdaStyle does not offer any refunds for web seminar recordings. All sales are final. Please contact answers@burdastyle.com if you have any questions about the content of the recording.  
ShareThis