Advanced Transformational Reconstruction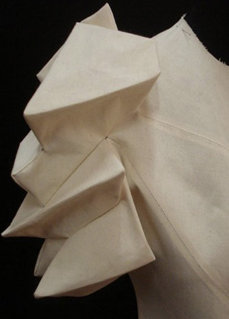 At a glance
The advanced web seminar recording will demonstrate more elaborate applications of this technique
Description
Pattern making is a living, breathing art, and is premised on the constant relationship between flat pattern pieces and the three-dimensional garment they assemble to create. Regardless of which shapes you begin with and the shape that you ultimately create, the relationship between the two never changes. This correlation allows us to draw new style lines on an existing garment, cut it into pieces, and re-assemble them into an entirely different and innovative creation.
In this follow-up web seminar recording, fashion architect Nicole Marét will again reference Shingo Sato's Transformational Reconstruction, as well as Tomoko Nakamichi's Pattern Magic to further explore this relationship. Sato and Nakamichi's strategies are simple, but lay the foundation for significantly more complex designs that would be much more difficult to achieve using traditional pattern making methods. The first web seminar demonstrated the basics, showing how to create new style lines and patterns on a bodice using Shingo Sato's techniques.
The advanced web seminar recording will demonstrate more elaborate applications of this technique, teaching you how to further manipulate existing garment pieces into sculptural works of art with structural, three-dimensional detail.
What you'll learn:
How to create advanced style lines in 3D on basic bodice, skirt and dress muslins
How to apply the 'slash-and-spread' technique method to the deconstructed pieces
How to combine these pieces to create completely different garments with tangible, three-dimensional detail such as protruding geometric shapes, knots, and accordion folds
About the Instructor:
Nicole Marét is a graduate of the Fashion Design program at the Illinois Institute of Art – Chicago, where she finally learned how to sew after gluing together Halloween costumes throughout her undergraduate career as an Art major at the University of California, Santa Barbara. She has received multiple awards for her highly conceptual and impeccably constructed 'wearable art,' and currently operates as a freelance graphic designer, costume designer and wardrobe consultant for the film industry. She launched her first collection, called The Ørder, in December of 2013.
This is a recording of a previously presented, powerpoint-style live-streamed web seminar.
BurdaStyle does not offer any refunds for web seminar recordings. All sales are final. Please contact answers@burdastyle.com if you have any questions about the content of the recording.  
ShareThis