Advanced Finishes Every Sewer Needs to Know: Expert Ways to Hem, Fasten & Bind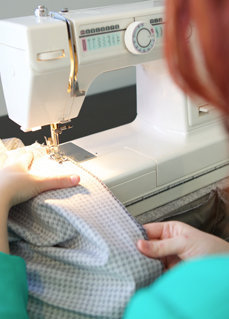 At a glance
After this presentation, you'll be filled with ideas for how to best finish your garments with chic, secure fastenings, seams and hems.
Description
There is a whole world of simple, elegant techniques that can take your sewing from plain to spectacular—and you can learn them quickly and easily! These expert techniques are the behind-the-scenes skills that make for clean finishes, the kind that will make your sewing feel polished and crisp. From exploring fasteners that go beyond zippers (like snaps, hooks & eyes, and nylon fasteners) to mastering button techniques that take your button game to a new level (like adding shanks for thicker fabrics, and where to place your buttons for the best results), you'll learn more about how to make those final touches be some of the best. There's so much value in really giving some attention to the parts of your garment that get the most use!
You'll also see new techniques for utilizing bias tape in your sewing, in some places you might not have expected: to bind the edges of seam allowances for a crisp, professional look; to finish off armholes and necklines, for a clean edge with very little bulk; and to finish a hemline with a flourish. Before you're done, you'll also play around with other hemming techniques, the kind that last and make a strong finish to your garment: a curved hem with no puckers, a faced hem with a pretty contrast fabric, a mitered hem for square openings that has no bulk, even a shell-stitched hem for lingerie and a lettuce edge for knits!
You'll be surprised at how these simple techniques will inform your dreams for new garments—and how many twists and flavors you'll be inspired to add to your next project! Presented through live-action video and illustrations, this webinar is a solid introduction to a wide range of essential skills.
What you'll learn:
how to hand-sew a snap properly with (nearly) invisible stitches
how to attach a hook and eye in just the right spot for a clean closure
how to space your buttonholes for maximum efficiency
how to create a thread shank on a hand-sewn button for thicker fabrics
how to attach a button by machine
how to insert nylon fasteners into a closure
how to bind seam allowances with bias tape
how to finish the edge of an armhole or neckline with invisible bias tape
how to finish an armhole or neckline with a contrast fabric
how to create bias tape straps for a tank or sundress
how to hem with bias tape
how to finish a curved hem with a clean edge and no puckers
how to draft a pattern for a hem facing and attach it to the garment
how to miter a square hem
how to create a shell-stitched hem on lightweight fabrics
how to create a lettuce-edge hem on knit or stretch fabrics
Who Should Attend:
anyone looking to create the best quality garments they can
anyone who wants to expand their skills at the sewing machine and with a hand-sewing needle
anyone who has struggled with closures or finishes in the past
sewers who want to create garment finishes that last the test of time
quilters who'd like to explore garment sewing and want to take the fear out of finishes
anyone who's ever struggled with where to put closures to prevent gaping and sagging
sewers who like the insides of their garments to be as nicely finished as the outsides
Difficulty level:
This class is for advanced beginners and beyond, anyone who has some experience with their sewing machine who wants to expand their skills. Some hand sewing is included.
About the Instructor:
Deborah Moebes writes Whipstitch, a blog about modern sewing. After a decade as a schoolteacher and a short career as an archaeologist, Deborah stumbled (kinda backward) into sewing and has never looked back. She's the author of two books, Stitch by Stitch and Stitch Savvy, and founder of a retail sewing lounge in Atlanta, Georgia, which was voted Best of Atlanta by Creative Loafing in 2010 and Best of Atlanta by Atlanta Magazine in 2012. Deborah teaches sewing classes at all levels both in person and online. She is also a regular speaker and instructor for sewing and blogging conferences, including Sewing Summit, the School of Art Fashion, and the International Quilt Festival, as well as at local quilt guilds.
This is a recording of a previously presented, powerpoint-style live-streamed web seminar.
BurdaStyle does not offer any refunds for web seminar recordings. All sales are final. Please contact answers@burdastyle.com if you have any questions about the content of the recording.  
ShareThis