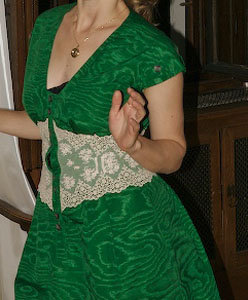 Vintage clothing describes garments common to another era. Opinions may vary, but in general clothing older than 25 years is considered to be vintage.
With a view to society, some people consider the surging interest in vintage clothing to be a reaction to cheap mass-production and the resulting uniform trends. More broadly speaking, a nostalgic sense of a loss of values and security in society as a whole is regarded to play a key role.
Vintage designer garments produced by houses such as Chanel, Dior, Fortuny, Emilio Pucci, and Elsa Schiaparelli have become desirable collectors items.
0 Comments
Talk to us!
Is there a term missing? Spot an error? We'll take care of it!