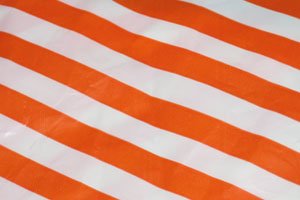 In principle, the same applies for cutting out striped fabrics as it does for check/plaid/tartan fabrics. We also make a difference here between even and uneven stripes. Plus there are also longwise and crosswise stripes.
Longwise stripes: fold fabric so that the most striking stripes on both unevenly striped fabrics and evenly striped fabrics will always meet. The selvages do not have to meet. When pinning pattern pieces together, make sure the front and back centres lie exactly in the middle of a stripe.
Important: On fastening edges, do not confuse the centre with the edge. On horizontal seams and pockets, remember the stripes should run on without interruption.
Cross stripes should meet at the seams. Fold the fabric so that the stripes meet exactly. Pin the pattern pieces so that the lower edges or the armhole insertion marks lie on exactly the same stripe.
Important: if you have cross-striped fabric, only choose sewing patterns with a straight hem edge!
0 Comments
Talk to us!
Is there a term missing? Spot an error? We'll take care of it!