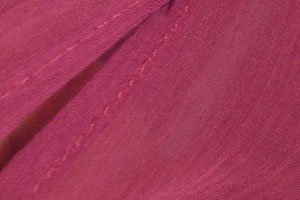 This is the name for the slanted seams where two hems meet at a corner, for example when a blouse has side slits. They are made as follows:
• Press the edge of the hem and the slit seam allowances to the wrong side by about 5 mm.
• Unfold seam allowance upwards and mark the pressed edge of hem allowance with tailor's chalk on the slit allowance (on wrong side of fabric). Put hem allowance back down.
• Now also fold the slit allowance inwards and mark the edge of the pressed fold on the hem allowance. Return slit allowance to position.
• Join both marked points and the hem corner with a straight line.
• Fold the corners so that the hem allowance lies on the slit allowance. Pin the allowances together along the chalk line and stitch in place.
• Trim off excess fabric to about 5 mm allowance, cutting diagonally across the lower ends. Press the seam allowances apart (this works best over the handle of wooden cooking spoon).
• Turn slit and hem allowances inwards, carefully pulling out the points of the corners with pin. Baste the slit and hem allowances in place and press edges. Topstitch the slit and hem allowances in place.
0 Comments
Talk to us!
Is there a term missing? Spot an error? We'll take care of it!