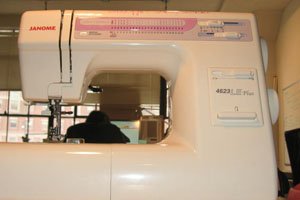 Straight stitching is the most important stitch and is included in all types of sewing machines. All stitching can be carried out with this stitch, except for neatening/finishing raw edges. It can also be used for gathering but you should ensure no puckering occurs.
Zigzag stitching is mainly used for neatening/finishing the raw edges of the fabric, whereby the width and length of the stitches can be adjusted. A narrow zigzag is usual for a normal stitch length (about 2 mm). This makes it slight elastic, so it's also suitable for stitching stretch fabrics like jersey, etc.
Elastic stitching is used for stitching elastic tape in position and elastic tape ends together.
Invisible stitching is carried out with a special sewing-machine foot.
Stretchy treble-seaming not only retains its elasticity but is also strong – e.g. trouser/pant centre seams. However, remember that such treble stitching is also extremely difficult to unpick!
0 Comments
Talk to us!
Is there a term missing? Spot an error? We'll take care of it!